Boys soccer: Matadors hand Firebirds first loss of the season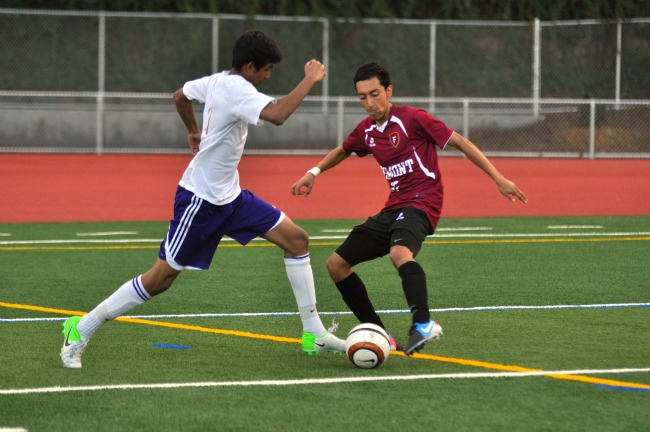 Atharva Fulay
January 28, 2013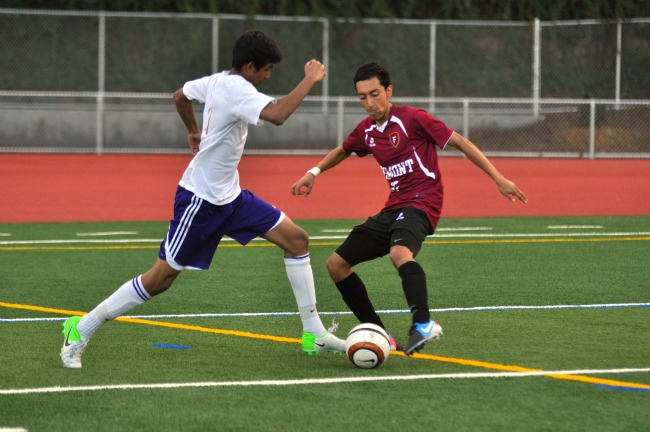 The Matadors faced off against the Fremont Firebirds, the last undefeated team in the league on Jan. 25. After a quick start and crisp passes, the Matadors were able to fend off any early goals by the Firebirds. In the second half, MVHS played aggressively and was able to get a goal to take the lead with a goal by midfielder senior Baris Demirlioglu. They then played tough defense until the final whistle to bring down FHS and deliver them their first loss, 1-0.
"Our game plan was working on coming out really fast and trying to get the first goal," center-back senior Andres Huang said. "We did an OK job … but in the end it paid off."
The match began with lots of contact and rough play. The Matadors were aggressive and took the first attack to the Fremont side. Fremont bounced back with an attack of their own. As the momentum teetered back and forth, both defenses were able to keep the ball out of the net. The game was tied 0-0 at the half.
"We came out with intensity and we made sure that we focused on our touches and made sure that we played correctly," Demirlioglu said. "We finally got the confidence back."
The physicality of the game intensified in the second half. Sophomores forward Brad Ohadi and midfielder Marco Schwiebert both received yellow cards. In the 53rd minute, Brad Ohadi dribbled the ball upfield and passed it on to forward senior Jacob Feit, who laid it off for co-captain Demirlioglu. Demirlioglu, who had no defender on him, tapped the ball into the back of the net from within 10 feet. Feit was credited for the assist.
"It shows that even though the scores show that we are not the best team," Huang said. "I think our players know how to work well together and end up beating teams like this."
After the goal, FHS players were frustrated with themselves and their teammates. The Firebirds played desperately in the final minutes to get another chance to score. They dominated possession time in the final 15 minutes of play, yet the Matadors defense shut them down.
When asked how thought the defense played, Huang replied, "Fantastic," with a grin.
With approximately two minutes left from stoppage time, the Firebirds got a crucial corner kick, which was lobbed through the middle but no player from either team could get a head on the ball. The Matadors cleared it for the last time and the Firebirds fell after starting 7-0 in league matches.
"The kids wanted it, they really wanted to win today and we got it," head coach Pooya Hajjarian said. "We have a lot of respect for [FHS], so to be able to beat them feels really good."
The Matadors' next home game is Friday, Feb. 1 against Wilcox High School. The Matadors' record is now 7-7-1 overall and 4-2 in league.