Wrestling: Slow start, illness and bloody noses lead to senior night game loss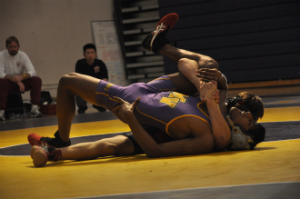 The Matadors were defeated by the Titans for their first loss of the season.The Matadors competed against Gunn High School in their final home dual match for their senior night game on Jan. 24. The team suffered illness, bloody noses and early losses, and was unable to recover. MVHS lost 26-39 to break their dual meet streak of 14 wins.
Seniors Justin Figueroa, Jonathan Pan, Nelson Jung, Ian Lee, Brandon Townsend, Evyatar Ben Asher, Omar Naguib, Matt Merkhofer, Anirudh Rajigopalan, James Whall and captain Matt Dygert were all congratulated and thanked for their contributions to the team. Team managers seniors Emily Batsford and Jennifer Taaffe were also acknowledged for their work.
Junior Faris Karaborni lost his match 3-8 after a tough three periods against a strong opponent. "Murk" Merkhofer and Ben Asher struggled as well and were both pinned.
"I was pretty well beat by my opponent in the beginning, but I felt that I let myself get sloppy later," Merkhofer said.
Sophomore Kishora Adimulam engaged in one of the more dramatic matches of the night. Although he was taken down repeatedly in the first two periods, he was re-energized in the third period. Adimulam fought back after being taken down in the first 10 seconds, making a reversal and nearly pinning his opponent within the first minute to cheers of "Ki!" from his teammates. After his opponent escaped, he drove at his opponent for another takedown with eight seconds to go but still lost 8-10.
The losing streak continued as freshman Jake Bornstein was quickly taken down by a single leg takedown in the first few seconds of the first period and pinned with 30 seconds left.
Junior Max McCann took the first win of the night. He sparred evenly with his opponent for most of the first period and suddenly went for a shot that caught GHS off guard to put him in a cradle for a takedown with 30 seconds to go. In the second period, McCann continued to exhaust his opponent as he snapped his opponent's arm down for another cradle takedown and a near-fall half a minute in. Although his opponent escaped, he took down his opponent again near the end of the period. In the third period, he threw his opponent down for a takedown 20 seconds in and rolled him over in another 10 seconds for a pin.
Freshman Nick Kolesov fought through three tough periods to escape from multiple takedowns and near-falls and lost 4-17. Dygert grappled evenly with his opponent, the No. 2 seeded wrestler in the 134-lb weight class, despite being sick and throwing up during the match. However, he lost 5-11 with a near-fall.
"I felt sick before the match and had an upset stomach," Dygert said. "But I think I wrestled good; my opponent was ranked second in CCS."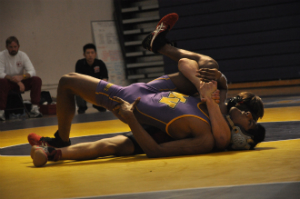 Rajigopalan was nearly pinned twice in his match and was unable to escape for a 0-12 loss.
Whall and his opponent were closely matched and both struggled for dominance for most of the match. In the second period, Whall flipped his opponent over for a takedown, was then flipped himself and then made another reversal as the crowd exploded. In the last second of the period, he managed to pin his opponent.
Wrestling despite a bloody nose, freshman James Migdal spent most of his match trying to force his way out of cradles and headlocks and lost with a near-fall 0-12. However, as one of only two freshmen on the team, he was optimistic.
"I have three more years ahead of me [to] keep improving," he said.
Krajnovich dominated through all three period although he also had a bloody nose to win 13-7, while junior Tijani Karaborni easily defeated his opponent with a pin one minute into the first period.
Junior Aaron Wu repeatedly took down but never pinned his opponent, using his experience in judo to dominate through both periods and take a decisive victory. He executed a double leg takedown 15 seconds into the first period and took him down again another four times within the period. In the second period, he threw his opponent down another two times and won 24-9 by technical fall to give his team five points.
Despite late victories, the team lost 26-39. They will have three more dual matches this season, and hope to re-establish their streak.
"They saw their momentum, so they saw their chance to build their lead, and it just kind of snowballed from there," head coach Kevin Klemm said. "I'm proud of our guys for not giving up and for wrestling as hard as they did. And it doesn't always go the way you want it to, but that's how it goes."