New procedure implemented for submitting announcements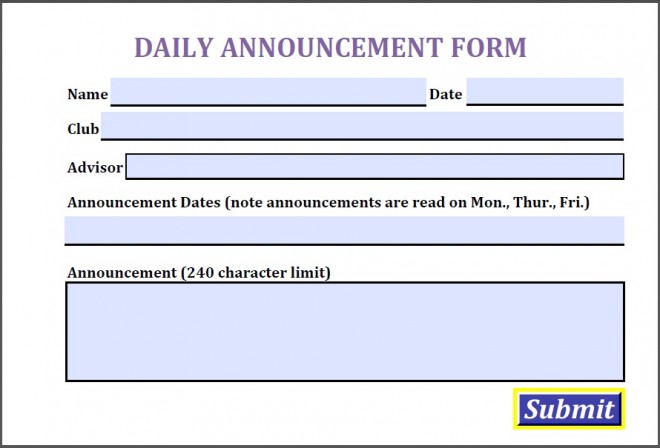 A new system for announcements has been approved by administration, and is now in effect. The new system was proposed by Dean of Students Nico Flores because clubs were sending lengthy and unclear announcements to administration
Clubs can now submit announcements through a PDF form, which can be found here. Changes include a 240 character limit to make announcements more concise and to the point.
Another major change that is present in the new system is that only announcements submitted by club advisors will be approved. Clubs are encouraged to open the form in Adobe Acrobat and save their message and send based on their approval.
This change was implemented in part to keep advisors up-to-date.
"We were often getting situations where advisors may not have known that there was an event happening but there are announcements saying that there's going to be an advisor there," Flores said. "We wanted to make sure that we kind of closed the loop on that one."
Flores was involved in creating a similar online form system at Fremont High School, where he was a Dean of Students from 2009 to 2012. However, FHS used the online PDF form for teacher feedback to the deans.
Because Flores already has experience with the PDF form format, he anticipates that it may encounter some technical difficulties and "growing pains." He noted that using Preview to open the form does not work, and that if club advisors a cannot directly submit the form, they can email it as an attachment to himself and Dianne Howard, Front Desk, to approve.
"I like the fact that they're making [announcements] more organized, but I think its a lot more time-consuming, because it has to go through your advisor, and your advisor might not make it in time," Interact Community Projects Manager junior Disha Bendre said.
Club Commission sent an email to clubs earlier in the month highlighting other technical issues that may come up. Nonetheless, Flores is optimistic that students will grow accustomed to the new format.
"We want everyone that's adding announcements to be patient because it will take time to become normalized and common," Flores said. "I'm hopeful that the students here, those that are involved with clubs, will be on board over time. But we need to be patient overall."