Sports podcast: Week 2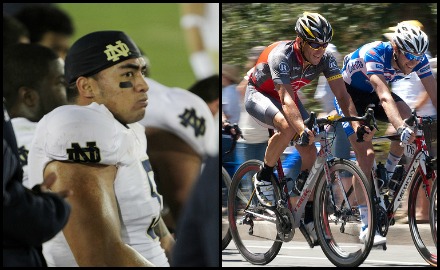 In this week's episode, sports editors Carissa Chan and Atharva Fulay talk about doping, the Niners and fake girlfriends.
Hello Monta Vista, and welcome to Week 2 of our sports podcast. We're Carissa Chan and Atharva Fulay, here to recap the week of Jan. 14 in sports.
10:00:00 Lance Armstrong 
Big news: Cyclist Lance Armstrong admitted last night, in a televised interview with Oprah, to doping charges. Armstrong is known for winning seven consecutive Tour de France titles as well as battling testicular cancer. And remember all those yellow wristbands? He also started Livestrong Foundation to help those with cancer too. And if you're not sure why he decided to admit even though he denied these allegations before, get this: The U.S. Federal statute of limitations means that he can no longer be charged with perjury.
35:00:00 Manti Te'o
Roger that. Now let's talk about something a little stranger. Football player Manti Te'o from Notre Dame University was caught up in a hoax this week. In September last year, he announced after playing a game that his grandmother and girlfriend had both died on the same day. Te'o talked to his girlfriend over the Internet and phone, but it's now been revealed that she never existed. It was, supposedly, part of a huge prank that went too far with someone pretending to be Te'o's girlfriend.
1:05:00 San Francisco 49ers
The Niners won the their playoff game last Saturday against the Packers. They're now in the NFC championship game, in which they will play the Atlanta Falcons in Atlanta on Sunday.
1:15:00 Boys basketball
Now for Monta Vista sports. Boys basketball had a tough loss to Wilcox on Tuesday. They were missing star player Ramana Keerthi, who leads the team in points scored and leads the league in rebounding and blocked shots. The Matadors have an away game today at Fremont.
1:30:00 Boys soccer
Boys soccer won 5-0 against Cupertino on Monday with three of the goals scored by senior Bobak Ohadi and the other two by sophomore Brad Ohadi. their league record is now 2-2 and they are 5-6-1 overall. They play Lynbrook today at 3:30 p.m.
1:45:00 Girls basketball
The Girls basketball team won against Cupertino by a blowout score of 48-15 on Wednesday for their first league win. They also have an away game against Fremont today.
That's all for this episode. Join us again next week on Friday for another podcast. Until then, we're Carissa Chan and Atharva Fulay telling you what you need to know. Thanks for listening.
Featured photos from Flickr users Neon Tommy and AngusKingston.