Boys basketball: Win against rival Lynbrook High School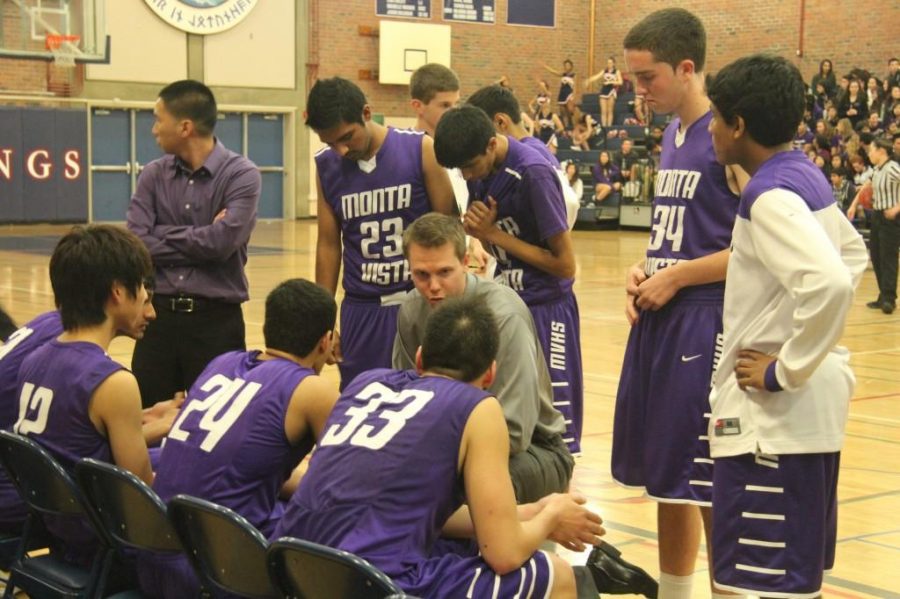 Alaina Lui
January 12, 2013
The Matadors defeated the Vikings 45-26 in the annual rivalry game.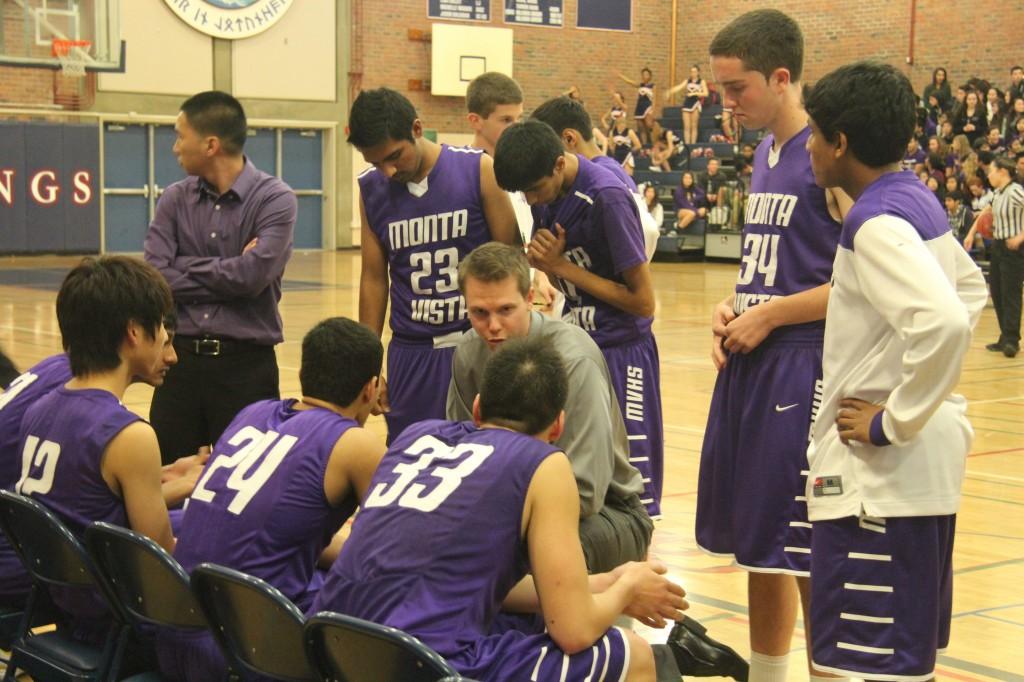 A much anticipated and promoted game against Lynbrook High School on Jan. 11 brought both victory and school spirit to MVHS. Despite being an away game, Matadors filled around half the stands, flashing purple and gold in the otherwise gray gym. Bull Spirit brought energy to support the Matadors with various chants and cheers to supplement the Matadors win.
"I felt a lot of school pride and school spirit because even though this was an away game, most of the people in the stands were from MVHS and were cheering on our victories," junior Karen Yagi said.
The Matadors made the first shot of the game after four attempts, to which LHS subsequently countered with a three-point shot. But the Matadors began to pull ahead as senior Alex Soong scored a two-pointer and junior Aditya Raju blocked a shot attempted by LHS. Junior Ramana Keerthi then scored, but was fouled immediately after. As he made his two free throws, the crowd began chanting his name.
"We love it when we play with a big crowd because they give us a lot of energy," Keerthi said.
Ending the second quarter on a high note, leading the Vikings 19-14, the Matadors were motivated by the crowd to perform.
"It felt great to have the crowd there because it felt more like a home game with more people from MVHS [than LHS] in the crowd," senior David Lai said. "That definitely really pumped us up."
Senior Cory Low scored four points for MVHS within the first minutes and also drew a foul for a three-point play. Yearning for a comeback, the Vikings were also able to draw a foul, but ended up missing both shots. With only 1:37 left in the third quarter, Low scored a three-pointer making the MVHS-filled crowd go wild.The Vikings, however, responded by scoring with a fast break to silence the cheers. But with combined efforts from Low and Lai, the Matadors were able to pull far ahead, ending the third quarter at 35-19.
"I thought in the first half we were kinda slow because we were overly excited and we weren't playing with our minds; we were just being impulsive," Keerthi said. "But third quarter we sort of calmed down and started playing our own game and started scoring more and playing more defense."
As the fourth quarter began, the Matadors took even greater control of the game. Low missed a three pointer but Raju was quick to jump and get the rebound to score a point. Juniors Jeffrey Lu and Ontick Khan both also contributed points before the game ended, with each scoring layups. The game ended with MVHS winning 45-26.
"A fun rivalry [gives an] extra little boost of energy [where] the kids have a little bit more bounce in their step and just excitement," coach Clay Stiver said.