'Curse of the Cobra's Kiss' a priceless artifact.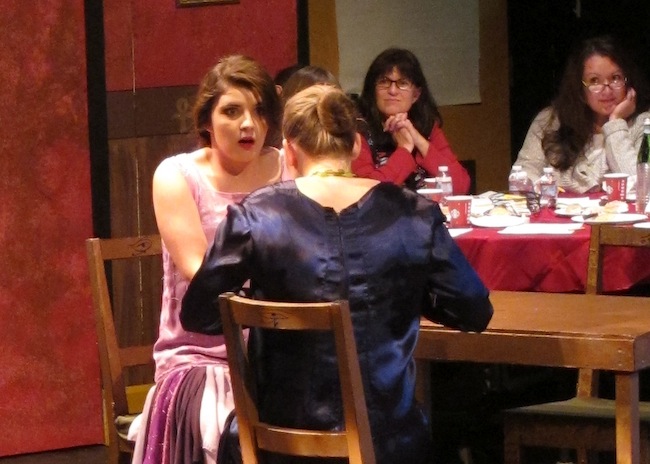 I helped solve a murder.
Well, no, not really. It wasn't a real murder — just the mysterious deaths of three characters in Advanced Drama's "The Curse of the Cobra's Kiss," performed twice Dec. 14. I didn't actually help identify the killer, either — my guess, written on a ballot provided by cast members, was pretty far off.
The crime committed in "Cobra's Kiss," written by Craig Sodaro and directed by Kim Saunders, isn't a real murder — but the show's cast and crew create an experience so absorbing it may as well be. The play is performed in a highly interactive format. Audience members are seated at a number of circular tables in the Black Box Theater, remade to look like a snazzy 1920s cafe, and cast members act in every direction, even conversing with audience members during the intermission. Be warned, though —  this setup may result in some bodily harm (I was at one point whacked in the side by a mummy).
The plot is simple and exactly what you'd expect from a murdery mystery. A cat is murdered, a professor is murdered, his wife is murdered and the apparently reanimated corpse of a pharaoh pops in every once in awhile. The cast is populated with the usual suspects — the jealous secretary, the inheritance-coveting nephew and the doomsaying soothsayer among others.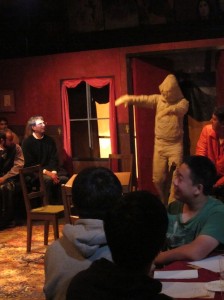 They're all perfect. Every actor seems to use a different accent, and each one seems to have it down to a tee. Sophomore Akshay Savale transforms into an Italian in his portrayal of Chef Boyardee. Seniors Sarah Baxter and Kazmiera Tarshis perfectly imitate Southern belles in their performances as Rose and Violet La Tou. And junior Alexander Pieb, playing the bumbling detective Hercules Porkchop, channels an almost manic energy as he provides a hilarious French accent that he insists is in fact Belgian.
Already brilliant on their own, these actors elevate the show to a new level through their chemistry as a cast. Dialogue is whip-fast and witty, and the interactions between characters are genuine. Moreover, every character, regardless of whether they're off to the very edge of the room or on center stage, is constantly involved and reacting to the ongoings. I felt like my eyes were going to pop out from trying to keep track of every possible suspect.
During the intermission, characters drift through the audience  — who are provided with delicious snacks, drinks and paper on which to take notes — offering to be interrogated. It's impressive how these actors manage to stay in character even when responding to unscripted questions.
When asked if he had a role in the demise of Moo Moo the cat, Savale, acting as Chef Boyardee, assured me that he and the deceased feline had no bad blood between them and were in fact "like brothers." Senior Dhruva Seelin, who plays Texan filmmaker Max Deblohardt with admirable swagger, offered me a role in his next motion picture.
After this walkaround, audience members have the opportunity to write down their guesses for the culprit in each of the three murders, with the most accurate, most inaccurate and most creative responses each winning a miniature chocolate sarcophagus.
Despite competition from the excellent cast, it's the lights — designed and run by junior Rafael Ruiz — that steal the show. There is lightning, fading to black and general craziness that engulfs the entire theater. The audience is not just watching the show, but immersed in it.
Though the cast and the lights maintain their quality in the second half of the program, the script begins to devalue in terms of believability. They were secretly married all along? And she was having an affair with him? And she's his illegitimate child? Come on, there's no way I could have seen that coming!
Although it's possible I'm just bitter that I didn't win a chocolate sarcophagus.