WATER POLO: Second annual Ron Freeman Memorial tournament hosted at MVHS
Senior Brendan Duffy scores 20 goals in weekend tournament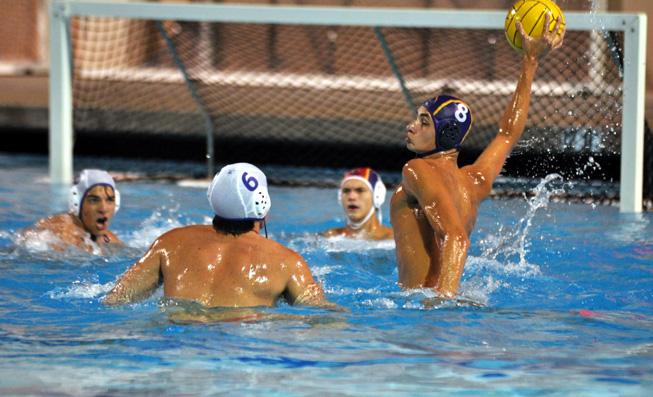 With posters hanging on the fences and a large crowd watching from the pool deck, the Matadors faced off against Pioneer High School in the second annual Ron Freeman Memorial tournament on Oct. 26. Senior Brendan Duffy led the team in scoring over the weekend in the last games of the regular season with 20 of the team's 25 total goals over the span of three games. The tournament was held as a memorial for former water polo and swimming coach Ron Freeman, who passed away two years ago.
The Matadors won their first game against Pioneer High School with a 13-10 victory over the Mustangs. At the start of the game, MVHS struggled offensively, falling behind 1-2 in the first quarter.
"First quarter, our offense wasn't too great. We were kind of disorganized," goalie senior Owen Hardee said.
The Matadors showed improved play in the second quarter, especially on defense. The Mustangs had very few direct shots at the cage, and those that were close were blocked easily by Hardee. Senior Jeffrey Lee scored a goal near the end of the second quarter, tying the score up at 7-7 by the end of the first half.
Going into the third quarter, the Matadors and Mustangs proved to be evenly matched. With 4:43 left on the clock, PHS scored a goal to take the lead; however, senior Omer Yosef responded with a goal for MVHS just 14 seconds later to keep the score tied. An exclusion then allowed junior Colin Hong to skip in another goal for the Matadors.
The Matadors started to break away from the Mustangs in the fourth quarter. Yosef started the run with 6:42 left in the game and senior Alan Yap followed with a goal on an exclusion to give the Matadors an 11-8 lead. Duffy then took an outside shot and managed to score for his eighth goal of the game to put the score at 12-8.
"All of our big shooters started to find where they were trying to hit [and] our passes started clicking," Hardee said.
The Mustangs attempted to regroup and rally against MVHS; they managed to score after stealing the ball from Hong. The Matadors kept a four-goal lead, however, with another goal to make the score 13-9. Though PHS was able to score one more goal, the Matadors' defense held off the Mustangs, trying out a new defensive play instead of their typical four-five drop, for the remaining 32 seconds for a final 13-10 victory.
"We managed to pull it together and shut down [PHS'] offense," Hardee said.
Update: The Matadors lost to Saratoga High School 7-12 and defeated Aptos High School 18-8 on Oct. 27. MVHS finished the tournament with two wins and one loss.