GIRLS TENNIS: MVHS wins at home against St. Francis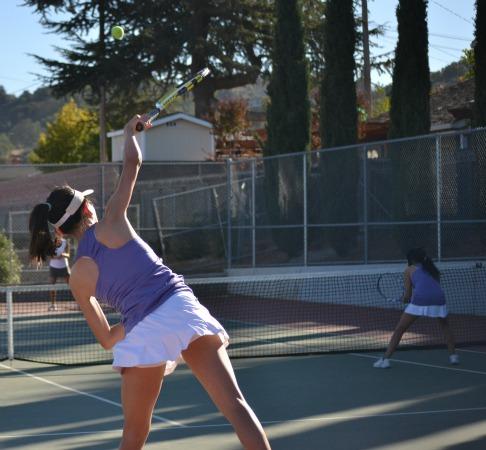 Matadors defeat Lancers 6-1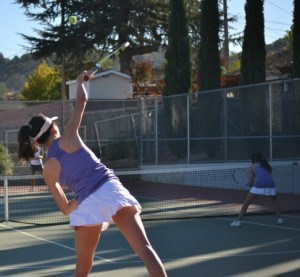 The MVHS girls tennis team defeated Saint Francis High School 6-1 on Oct. 17, adding another win to their run as undefeated champions. All of the girls won their matches except for senior Wendi Kong; she lost her singles game against senior Mary Closs, who is ranked number 42 in the nation for girls tennis.
Featured Matches
No. 2 singles: MVHS senior Jody Law defeats SFHS junior Paulina Bajet 6-0, 6-3
Law played a strong match, hitting consistent returns and powerful serves. Law strategically placed her shots to play to her strengths — hitting fast and sharp returns — which was key to her win over Bajet. She put away several volleys and was able to put herself in position to hit winning cross-court shots.
"[I] tried to be consistent, wait for an easier shot, and go for it," Law said.
In the first set, Bajet made a number of unforced errors, hitting long shots and smashing volleys into the net. Those, along with Law's strategic playing, led to Law taking home the first set.
Law based her strategy on previous experiences playing Bajet.
"I've played this girl previous times at tournaments," Law said. "For this one I knew I had to be more consistent … I knew I couldn't be as aggressive as before, because she's better than most of the other players."
In the second set, Bajet made a comeback by hitting multiple cross-court shots and consistent returns to win three games. Law hit a few shots into the net at the beginning of the set, but was able to regain solid footing as she entered the final few games.
After several long rallies and strong returns by both players, Law won the second set with a fast cross-court shot that Bajet was unable to return.
No. 1 doubles: MVHS senior Ruri Kobayakawa and junior Sabrina Mui defeat SFHS seniors Erica Gustafson and Gretchen Bahr
Kobayakawa and Mui started the match off committing multiple errors, missing several returns and hitting a shots into the net. With several players missing due to injuries, the team was put into an unfamiliar situation and forced to reorganize.
"In the beginning, it was a little bit shaky because we haven't been playing with each other because we're missing a couple of players," Mui said.
This was the second match in which the two played together. Junior Kelsey Chong, Kobayakawa's usual partner, played singles in this match, forcing Kobayakawa to pair with Mui.
"So we had moments where it was a little bit off. There was this one time where I'm used to [Chong] calling the ball and I usually just respond … [but] both [Mui and I] were waiting for each other to call it … and we just kind of waited," Kobayakawa said.
Their strategy involved kick serves from Mui making their opponents pop up the ball so Kobayakawa could poach and put it away. Kobayakawa also served and hit powerfully and in the end, Kobayakawa and Mui won the match 6-3, 6-2.
The Matadors' final home game will be on Tuesday, Oct. 23, against Mountain View High School.