GIRLS VOLLEYBALL: Lack of communication results in 0-3 loss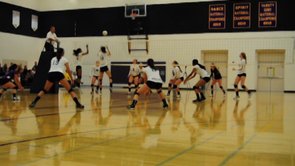 Atharva Fulay
October 22, 2012
Weak defense against Mountain View leads to straight loss
Since the gymnasium was being used for rally set up, the girls volleyball team relocated to play in the Field House against Mountain View High School on Oct. 13. The girls struggled with passing and lacked the energy to keep up with the powerhouse Spartans. The Matadors ended up losing the game 0-3.
"A lot of the time today we were not communicating very well," sophomore Hannah Pollek said. "If we improve that then our sets will be able to be hit better."
The Spartans came out playing well and left the Matadors behind with a score of 14-7. Unable to get a rhythm on offense, the Matadors mainly relied on outside hitter junior Beverly Yu to put the ball down and earn the team some points. The Spartans' defense and solid work in the front row caused MVHS to take a timeout. Trying to dig themselves out of a 9-17 deficit, the offense mainly relied on the outside hitters to attack the ball . After gaining some confidence, the Matadors began chipping into the lead, getting themselves to a score of 15-20. Even so, the Spartans wrapped up the first game on a five point scoring run, taking the game 15-25.
"I think we just didn't have the energy; we didn't have that will to fight," senior Allison Yu said. "People can make mistakes but I think a lot of people were giving up when it's not really time to; it's never really time to [give up]."
Throughout the second game, the team fought in hustle plays but still found themselves in a hole. Being down 11-14, they lost grip of the game, giving up runs and giving the Spartans a 20-12 lead. The Matadors lost 15-25.
"I think the girls were a little rundown," head coach Colin Anderson said. "It is a little tricky with homecoming; everybody is a little exhausted and it showed. We didn't step up like we needed to."
The Matadors looked exhausted after the second game as they started the third set down 2-7. The energy level fell from there as the Spartans took over the game and did not look back. They blew out the Matadors 25-8, including 11 consecutive points from tough serves.
The girls slowly lost momentum as the game went on. Enthusiasm was drained when the Matadors tried to dig themselves out of a hole. This can be seen in the effort put in by the players.
"We played a little flat," Anderson said. "We didn't quite have the high level of energy that we needed to compete at this level. We've played much better in the past. We were fast, quick and aggressive in previous matches. Tonight we didn't have any of that."
The Matadors' next home game is on Oct. 16 against Palo Alto High School.