Team loses to Lynbrook, continues 0-11 losing streak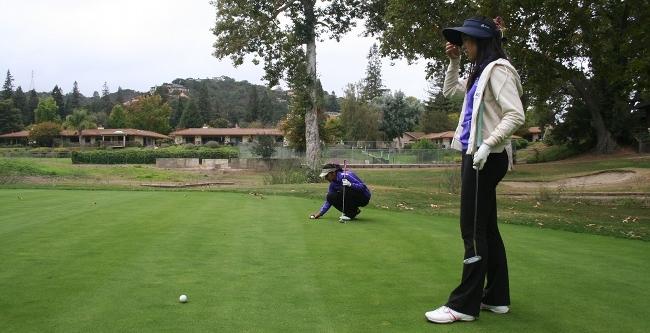 In the eight-member girls golf team's penultimate dual match and final home game on Oct. 11 heading into the Blossom Valley Athletic League finals on Oct. 26, the Matadors suffered their closest loss yet as they continue their losing streak of 0-11. Their second match against Lynbrook at Cupertino's Deep Cliff Golf Course ended in a 219-220 defeat.
Captain senior Prianka Singh finished with 37 strokes, freshman Anika Singh scored a 39 and junior Natalie Ng received a 41.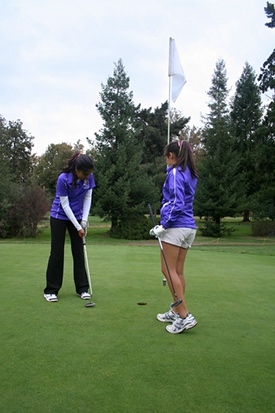 Despite finishing with the lowest score overall, Prianka struggled with consistency and putting in her game. She parred on holes two, three and nine but had trouble on holes one, four and five.
"A few of my shots were really off, but some were really good," Prianka said. "I usually am consistent — not consistently good or bad, just consistent. I was pretty off today, but I just need to practice."
Second seed Anika hit a quintuple bogey on hole three and had trouble with chipping and drawing her driver. Even so, she has seen a pattern of improvement both individually and in the team.
"I hope we can win our last one," Anika said. "It's been a good season; we've all improved a lot. I think I did really good. Before I was hitting 45; now I'm hitting 39."
In the third year of its existence, the girls golf team has been making progress, reducing their loss margin throughout the season. With only Prianka graduating this school year, most of the team will stay intact as its members continue to gain experience.
"Their scores have been improving," head coach Brian Sullivan said. "I think they're more relaxed. Golf is a game of repetition, and I think they're getting comfortable with the swing routine."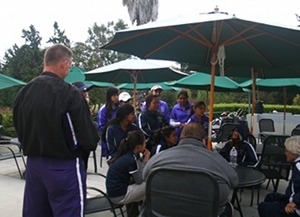 Each team may send six individuals to BVAL qualifiers, of which only the top 50 players in the league may qualify. As of Oct. 5, Prianka is ranked 14th, Ng 35th, Anika 45th, and Perati, who still has a chance for a berth, in 62nd.
This year, CCS qualification will not be decided separately for each league. The top team and individual from BVAL will qualify automatically for CCS, while all the other players in the leagues will be evaluated based on rating, slope and course, with the top 25 continuing on to CCS.
The girls golf team will play against Evergreen High School in the last game of the season on Oct. 16.