Play together, stay together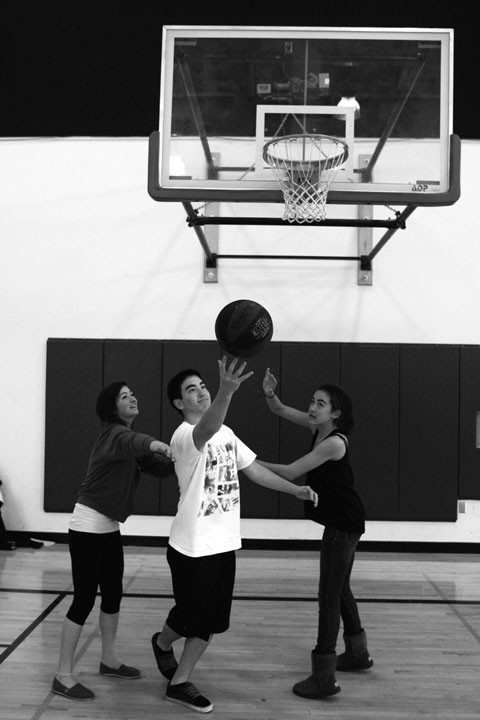 Howard Lee
February 8, 2012
Back when the Jennings siblings — senior Thomas "TJ" Jennings, sophomore Stephanie Jennings and freshman Christina Jennings — were younger, they would spend all of their summer afternoons the same way. Eat lunch, then head onto the makeshift basketball court in front of their house. The kids would play for hours. Sometimes, their parents, math teacher Martin Jennings and Kennedy Physical Education teacher Erin Jennings, would join them. Sometimes not. But until the sunset, playing was the only  thing of importance. Even now, nothing has changed.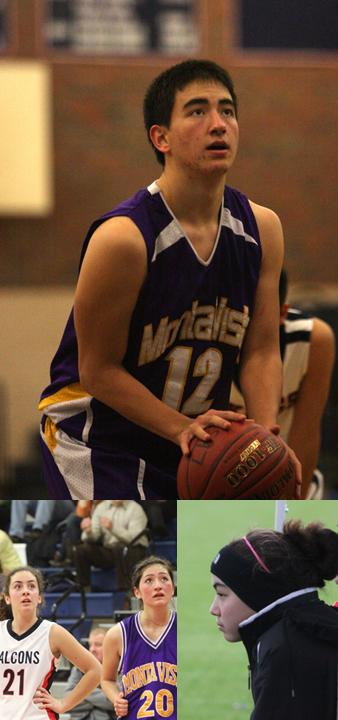 "I don't know," TJ Jennings said. "I just can't imagine my life without sports."
Ballin' since birth
The tradition of athleticism for the Jennings began at home, as the parents involved themselves beyond the point of paying the obligatory dues. Like his son and eldest daughter, Martin Jennings played on his own high school basketball team.
"When I was in college, I met many people through basketball and intramural games. It's a real avenue for socializing and I wanted them to have the same opportunity," Martin Jennings said. ìMy hope in getting them involved in organized sports is that … if they wanted to play, they could play."
And play they did. From the start, all three children were involved with YMCA basketball, then switched over and played in Cupertino Hoops. TJ Jennings began at an early age; at a few months old, his dad brought a miniature basket hoop for him to play with. In sixth grade, he began playing at Cupertino Hoops, but mostly, TJ says, it was just him and his dad coaching him. His interest in sports also diversified: in freshman year, TJ Jennings also joined football, and in his junior year, began playing on the varsity football team.
Christina Jennings began playing soccer at the age of four, at AYSO, and basketball in first grade at Cupertino Hoops. She played both soccer and basketball simultaneously until eighth grade, when she decided to focus on soccer exclusively. This year, she joined the girls varsity soccer team.
Stephanie Jennings also began at the age of four. She too played at Cupertino Hoops and YMCA. She began playing girls varsity basketball this year.
Martin and Erin Jennings not only encouraged them, but actively nurtured their talent. Christina Jennings remembers an early experience with her father coaching her in basketball at the YMCA.
"He was all, 'Christina, use your left hand!'" she recalled. "I never wanted to use it. I try and I would get frustrated and hate it."
"But I wasn't unhappy [about that]," Martin Jennings interjected. "I think when she said she was frustrated, it wasn't because her coach was yelling at her, it was because she couldn't do it. But she was doing exactly what I wanted her to do."
Their shared love of sports also served as family time. The Jennings would often hold basketball games outside of their house. But because of diverging schedules, it is now more difficult to spend time together. A typical night in the Jennings' household sees each child in their rooms, and the parents on their own. TJ Jennings acknowledges that life has become busier, noting that it is less common for them to dine together.
"I enjoy watching my kids play … I go through the same emotions every game — I'm screaming inside and out. When its close games — tense; bad pass and turnover — I get upset. But when it's good, I'm happy." — mother Erin Jennings
That is not to say, however, that they do not spend time together. They do — and often times at games.
Fans in the stands
Occasionally chatting with fellow spectators, Martin and Erin Jennings sat in on the Los Altos girls basketball game to watch Stephanie Jennings play on Jan. 10 when the Lady Mats won against Los Altos 60-48.
"I enjoy watching my kids play. [At their games,] I get tense, excited, happy, everything," Erin Jennings said. "I go through same emotions every game — I'm screaming inside and out. When its close games — tense; bad pass and turnover — I get upset. But when it's good, I'm happy."
There is a playful atmosphere for the children watching the game, as they provide a running commentary.
"Every time I go to his games, I'm always like, 'Get the ball, TJ. TJ, drive. TJ, shoot," Christina Jennings said. "I'm like coaching him, but he can't hear me. It's also exciting when he scores."
"I just want TJ to score," Stephanie Jennings said, echoing Christina Jennings. "Whenever he makes it, I just get really excited. He just looks good when he shoots it — when it goes 'swish,' I feel proud that he's my brother."
TJ Jennings admits coaching from the stands as well.

"I remember saying, 'Christina, why don't you get the ball, go on the field,'" he said, laughing. "And Christina's always been good at soccer, so when her teammates mess up, I'm always like, 'Uh, if Christina had the ball, she would've done something different.'"
This camaraderie does not end after the games. Sports are a common language for the Jennings — even when they play different ones. Christina Jennings, as the only soccer player amongst the three Jennings children, is the subject of good-natured ribbing by her siblings. She is not hesitant, though, to poke back.
"It's always fun when Christina talks about what we could've done different in a basketball game," TJ Jennings said. "The other day, we were just like, 'Oh yeah, Christina, you can only give hints if you play.'"
 "They can't compete with me," Christina Jennings said. "It's different, and they're like, 'You should play basketball because of this and it's better,' but maybe they should play soccer, you know?"
Pulled together
TJ Jennings finds his father's basketball experience helpful in improving his own skills.
"It's nice to have that person watching you and critique how you play and say the way you could change so you could be better," TJ Jennings said. "I feel like even though my dad was hardly ever my coach, he kind of was in a way, telling me what to work on and what type of skill-sets to improve."
Stephanie Jennings agrees her brother, believing that the family support makes it easier for them to keep on playing.
"I think being in a sports family has given me some actual help with my everyday life, instead of just basketball. The teamwork is a big thing — we understand that if one person isn't doing very well, then you need to help them," Stephanie Jennings said. "I think I'm probably going to put [my children] in basketball or softball — something where you have a team. You get a good feeling when you work together."
"It does pull us together," Martin Jennings said, "and I think it's gonna continue for the rest of our lives."