Alumni return to give Explore Careers! presentations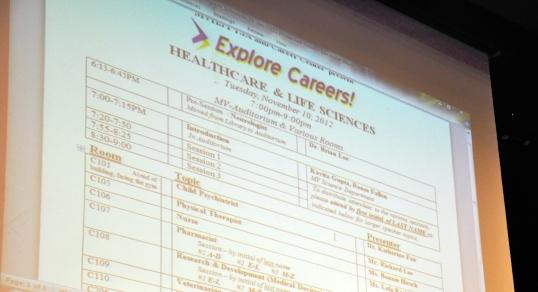 At 7 p.m. on Jan. 10, MVHS's auditorium was flooded with over 200 students and parents. Explore Careers! was hosting its latest career night with speakers from the field of Healthcare and Sciences. About half of the 18  speakers were either MVHS alumni or parents.Career Center liason Miriam Taba and the PTSA opted to have these speakers who had some level of connection to the school.
"One of the speakers we have coming in is a pre-natal genetics counselor, who is in fact the daughter of [principal April Scott]," Taba said. " I think that students will be excited about this."
Allyson Scott, who has worked at University of California, San Francisco's Medical department since 2005, is a class of 1996 alumna. This is her second time coming back to present on her career.
"Science has always been a passion of mine," Allyson Scott said. "I've always known that I've wanted to get into the medicine field, but halfway through school, I realized that becoming a doctor was not the best fit for me. Then, I found the field of genetics counseling."
Although Scott had looked into the teaching field similar to her mother, she came to the conclusion that the school setting was not for her, and science was what she wanted to pursue as a career instead.
However, she did enjoy her time in high school as she figured out what she wanted to do, similar to other alumni who returned to present.
"I personally started out in engineering," opthamologist and class of 1997 alumna Janet Tsui said.  "But I went to University of Southern California and got into medical school and loved it."
On the other hand, physical therapist and class of 1991 alumnus Richard Lee pursued what he wanted to from the start: physical therapy.
"I used to play football and track, so I used to get hurt a lot," Lee said. " When I went to my physical therapist, and saw him enjoying what he was doing, I thought, 'Cool, why don't I try that too?'"
With the Explore Careers! event gaining over 200 participants, PTSA and the speakers believe that this night was a success, especially since many of the speakers had a connection to the school.
"I definitely enjoyed coming back to this school. I love this place, and that's the beauty of [MVHS]. It builds character and leads you to where you want to be," Allyson Scott said.