The Matadors entered the league season following a fourth place finish in the eight-team Monta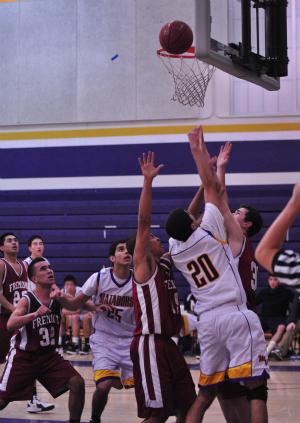 Vista Invitational Tournament, scoring less than five points in the first quarter of each of their three games. In their first league game on Jan. 4 versus the Fremont Firebirds, they did it again — scoring only four points each in the first two quarters en route to a 38-46 loss."I think we were just a little bit nervous coming out, [but] we finally got it together in the second half," point guard junior Tommer Schwarz said. "It's just frustrating we started out slow."Small forward George Geha led the Matadors with 12 points and six rebounds while center sophomore Ramana Keerthi added eight points and six rebounds on 4-4 shooting. It was sloppy for MVHS (6-7, 0-1), though, as the team gave up 13 turnovers and eight offensive rebounds to Fremont (4-8, 1-0).
After Fremont senior Nathan Quiwa scored first with a three-pointer at 6:02, the Matadors committed four consecutive turnovers, prompting head coach Clay Stiver to call a timeout at 3:07. Defense kept MVHS in the game by limiting the score to 4-7 at the end of the first quarter.
In the second quarter, more missed shots and turnovers plagued the Matador offense as MVHS failed to execute its plays effectively. Only at 4:38 did MVHS score its first points of the second quarter when Geha was able to penetrate the Fremont defense for two baskets. The rest of the team shot 0-4 with three turnovers during the quarter.
Even though the defense continued to be strong in the second quarter, Fremont grabbed four offensive rebounds to frustrate the Matadors. Fremont ended the half with eight unanswered points, capped by Fremont senior Ronald Bryant Jr.'s shot at the buzzer to lead 8-20 by halftime.
"Nothing was working. In the first half, there was no fire," Stiver said. "We would run the offense but it would just be slow and it seemed like they didn't want to play in the first half at all."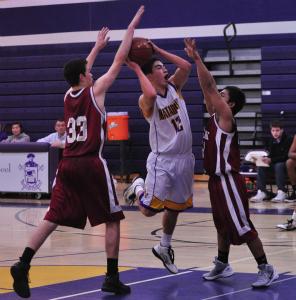 The Matadors displayed a different energy coming out of the locker room, going on a 9-1 run to start the third quarter. Point guard senior Thomas Jennings started the run with a three, but then Keerthi powered his way in the paint with four points and a block. By the end of the third period, MVHS scored 18 points to reduce its lead to 26-31.
"They finally realized if they pushed the ball, they could beat [Fremont]," Stiver said. "Our stuff works, but you got to run it and you got to run it with purpose. They kind of figured it out in the second half, but by then it was too late."
With 3:26 to go in the fourth quarter, Schwarz scored a three and another jump shot to cut the deficit to 32-33. However, Fremont soon answered back with another three by Quiwa. Fremont kept attacking with layups by sophomore Alex Bernauer and junior Michael Burdett to complete a 9-1 run.
Jennings made a three with 40 seconds left, but by then Fremont already established a comfortable 42-36 lead. Jennings finished with eight points on 3 for 10 shooting and six turnovers.
"Our defense slacked off. They just looked tired. Everything was just so slow, and it's hard to catch up when you're down 12 at half time," Stiver said.
The Matadors look to start stronger on offense in the first half before their next game on Jan. 6 versus the Lynbrook Vikings. Lynbrook defeated MVHS in an earlier Dec. 9 tournament game 56-40.