Yesterday's pain, tomorrow's potential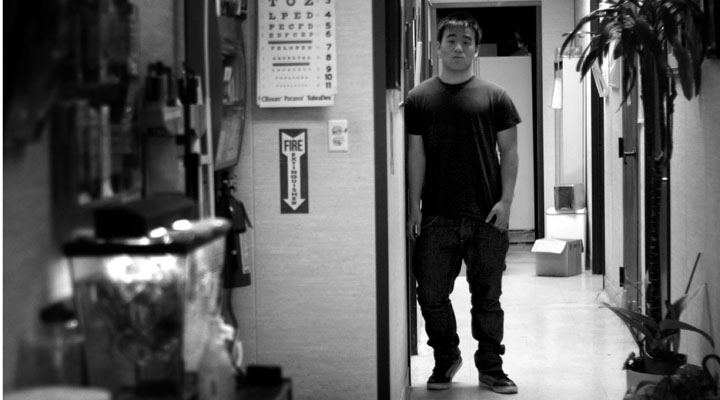 Jacob Lui
December 7, 2011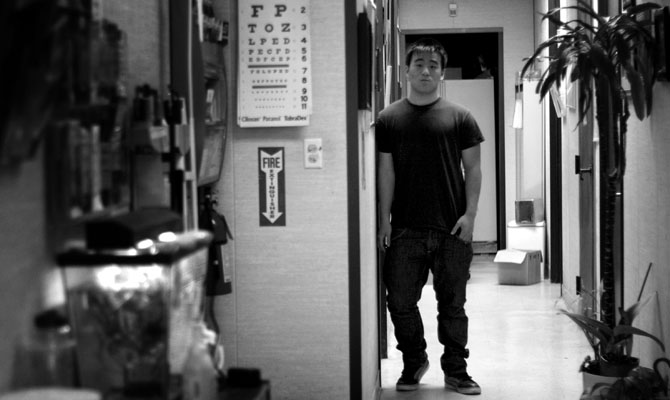 The UCs, Stanford, and Columbia are all common topics of conversation in the chaos of college applications for seniors, but one seldom hears the words ìAir Forceî in discussions about future plans for MVHS seniors.
With the looming question of the next step for his future, senior Israel Young admits that he does not fit into the typical image of a Matador — students who are, for the most part, secure in their goals of college.
"I'm not annoyed, but I can't really get into conversations because they're all about college [applications] and how they're applying to all these private colleges [and] how things are going great for them," Young said.
With ten other siblings, Young lives with a family of thirteen — a family that, according to Young, is not easy to provide for. His dad, Dr. Gabriel Young, works as both a pastor and a family physician at a local clinic along with Young's mother, Pey-Chen Young, a nurse. Though both employed, the parents are finding it challenging to meet all the financial needs of the family.
Additionally, the poor economy has impacted Young's family. His mother had originally bought more expensive Chinese food for dinners since her busy work schedule prevented her from cooking frequently for the family. But with the critical drop in the economy, fast food more commonly finds its way to the Young family's dinner table. Grocery lists have become shorter and shopping has become less of a necessity for all the children as the family has learned to spend less frivolously.
"The very small things are helping out," Young said. Even trivial things that are often overlooked, such as assuring that the faucet or the lights in a room have been turned off, have contributed to the savings.
Being the second youngest child in the family, Young comes face to face with the huge problem of financial provision for higher education as his senior year progresses. With four older siblings in college and two sisters in medical school, Young's mother approached him in the second semester of his junior year.
"[She] told me about how she was struggling to pay for all the college tuition," Young said. "My mom was actually pushing me to go to the Air Force to save money."
Young understood his mother's reasoning but found it daunting to join the Air Force, so he explored more down the path of community college. His brother and 2011 MVHS alumnus Samuel Young  went through a similar situation earlier this year and actually passed the Air Force test but declined the offer near the end. Their mother introduced the idea of joining the Air Force as an alternate option but ultimately left the final decision to them.
"My thoughts were like this," Pey-Chen Young said in Chinese which was later translated. "First, serving the government would be great. Second, the Air Force could teach my children how to be independent and how to help others. And lastly, it would have greatly lightened our financial burdens."
But Israel Young's talk with his mother changed his work ethic for the remainder of his junior year. Knowing that the grades required to get into a community college were not nearly as competitive, Young felt that the imposed settlement for a lesser college, in a way, opted him out of the obligation of schoolwork. As a result, Young admitted that he began decreasing the level of effort in high school. His work ethic became consumed by negativity.
"If I'm not going to get into a nice college, then why try?" Israel Young said.
Israel Young recalled a time late in junior year when he was taking a test in math teacher John Conlin's class. He was already struggling in the subject, and with the ominous thought of his current financial situation and college prospects, decided that it would not hurt him to simply stop taking the test.
"I put my head down in the middle of the test and fell asleep," Young said.
After the test, Conlin talked to Young and told him something he had never expected.
"He told me, 'You can do it, keep on going,'"Young said. "It's those people that stepped into my life that kept me going."
Family, friends, and others like Conlin all served as anchors for Young to stay grounded in his life at school, which taught him how much words can help. But in all his struggles, faith and religion remain as the most crucial staples in Israel Young's life. Both of his parents have taught the family to be hopeful, dependent, and faithful to God.
"When we married," Pey-Chen Young said, "I had no money. My husband had no money. But we married in faith. From the rough start of my first marriage, my life grew more and more fortunate when I drew closer to God."
Israel Young recalls multiple times when a coincidental paycheck came just before the family's bills were due — something he credits to God. In one case, Israel Young's father's friend even decided to pay for all of one of his sister's college tuition.
"I honestly don't know how we've made it this far," Israel Young said. "It's really a miracle. [God] always provides."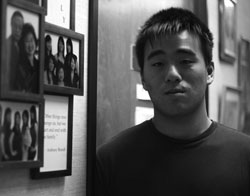 Now as a senior, even in light of his financial situation, Young still identifies himself with the MVHS mentality through his drive and ambition. Through his battle with academics due to his financial problems, Israel Young has learned that one thing maintains its utmost importance during hardships: passion.
"We grow up to satisfy. We seek approval from our parents, from our teachers, and acceptance from our friends," Israel Young said. "It's an ongoing process of trying to meet standards. In the end, you end up hopeless and worn out."
Israel Young believes that if one finds his or her passion, financial security will not be far away. Ambition to do what one loves to do, despite past failures and predicaments, is what has brought Israel Young to his mindset today. Now with a much more positive outlook, he is grasping the future and moving ahead with hope at his side.
"Yesterday's pain doesn't determine tomorrow's potential," Israel Young said. "Even if you mess up your grades it's still possible to achieve and be successful."
Now as he plunges forward through his senior year with friends who are looking towards far away colleges, Israel Young knows that appreciating everything in his life gears his mind away from negativity and into optimism. His words to our community of many affluent and financially secure students:
"Always appreciate how much opportunity we have."
Overarching appreciation, something that Israel Young shares with his siblings, brings happiness to their mother.
"A lot parents here work so hard, but none of their children appreciate it," Pey-Chen Young said. "Even though I don't give my children a lot, they really appreciate it. They love each other so much, and that's what I'm thankful for."