Devil's Advocate
Getting a job is like a rite of passage for teenagers. Like a sweet sixteen or going steady with your significant other, working a starting job for $8.50 an hour is almost expected once someone reaches his or her teenage years. It is a poke in our parents' protective bubble, and the first step to being fully independent.
Contrary to popular belief, however, not all teenagers should get a job. From the November El Estoque survey, many respondents said that the reason why they have their job is for the "extra money" and the "pocket change to buy the things [they] want". However, if you are the people spending your extra hundred dollars on a frilled skirt from Forever 21 and not on college books, you are wasting your time and hurting others. Those who really need the bucks for school and family expenses lose out on the opportunities that those who spend frivolously gain.
According to the Employment Policies Institute, the percentage of teenages that are unemployed ó meaning ìteenagers who are actively seeking a job but canít get oneî ó is three times the national unemployment percentage. Of course, it is a well known fact that the economy is terrible. That means there are more students who actually need the money for more important reasons, but less opportunities for them to earn it.
Some people argue that the reason behind applying for a job should not matter ó those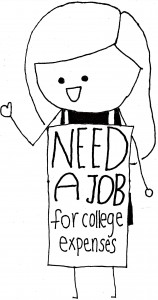 who are chosen for a job deserve their position, and those who do not get chosen were simply not competent enough. However, employers should, indeed, take reason into account. Need should always be more important than those with superfluous reasons.
Furthermore, to prevent those who do not need jobs taking away from those who do, regulations on resumes and applications should be reinforced and made stricter. Students should cite their reasons for applying to their job and their family's annual income. Those who do not fit the required criteria — people who cannot afford the entirety of their college tuition and most likely need to take student loans — should not be allowed to get a job, or be placed on a "waiting list". Employers should consider both the waiting list and those with need, but those with need should always be given priority.
The teenage unemployment rate is increasing, not just year by year, but month by month ó the Bureau of Labor Statistics reports that "unemployment among youth increased by 745,000 between April and July, more than last year's increase of 571,000". Not everyone can afford a fancy new red car for their sixteenth birthday. Many are already struggling with trying to pay for college or their family expenses ó issues that many donít have to worry about. Students who do have the fiscal flexibility and are more than well-off should not apply for jobs that they do not need. If one already has the money, why take away a job that is most likely be a precious opportunity to others, but is probably just a hobby for you?
If you have money, back off. Do not apply, do not get a job. This rite of passage can wait until you enter the workforce, or in several years, for your children.