Bitter+Sweet: a sweet escape from the average cafe
Upon opening the door, the first thing to welcome you into this cafe will be the fragrance of roasted coffee—followed by the greetings of the friendly owners of the restaurant. Bitter+Sweet, the newest coffee and dessert shop on the block, opened on July 23. Tucked away in the old Red Mango froyo location on De Anza Blvd., this small cafe offers welcome alternatives to the worn-out frozen yogurt.
The menu is frequently updated to reflect its various new additions. Classic options of espressos and cappuccinos are accompanied by a more unique, artsy array of coffee blends. From the El Salvador to the Blueboon Blend, these are not your average cups of joe.
Owners Janice Chua and Ian Chan liken the coffees to a medium of art, similar to wine. Each cup on the menu features a short description of the tastes that should be detected within, like  "strawberry, pineapple and red papaya" in the Costa Rica. Chua encourages customers to take their coffee black in order to appreciate such flavorful notes. But rest assured, milk and sugar await the not-so-cultured coffee connoisseurs at a side bar.
While the coffee selection caters more towards coffee aficionados than students looking for a run-of-the-mill caffeine fix, the available desserts can please anyone. Unlike other coffee joints who turn to desserts as an afterthought (that means you, Starbucks), Bitter+Sweet chooses their sweet products with care.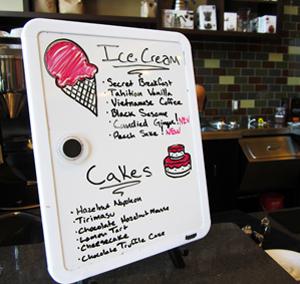 The pastries command attention from their white plate thrones in an artistically-lit glass display. The Kouignamann ($2.50) is a flaky, caramelized French pastry. Like a relative of the croissant, it features a slightly crispy outer layer that shines with molten sugar—so sticky that it will catch onto your teeth. A spongy middle balances out the crust and delivers a honeyed, lingering sensation, reminiscent of vanilla or almond cookies. While this Parisian treat runs on the sugary side, those with less of a sweet tooth can order a Crunchy Brioche ($2.25) instead.
Don't forget to try the eclectic and assorted ice creams, delivered from the Humphry Slocombe company in San Francisco. At $3.25 for a single scoop or $4.50 for a double, customers can indulge in unique flavors like Secret Breakfast (cornflakes and bourbon) or Peach Sake. The Black Sesame could easily be mistaken for a scoop of  heavily-studded vanilla bean, but a strong sesame flavor is infused throughout the cream. Smooth and creamy, it delivers a full, candied experience. Better yet, the ice cream sports a pleasantly gummy consistency and doesn't melt quickly, so customers can enjoy it to the last bite without having to sip the melted remains.
A word of caution: everything in moderation. One dessert item may be delicious, but the sweetness of the next may take your taste buds too far. Savory options do exist, like the savory pie available in varieties like chicken with cheddar and apple or wild mushroom with gruyere cheese. Yet the simple chicken with tomatoes pie ($6.75) was about as impressive as an elegant turkey taco pocket from the middle school lunch line. Props for the pretty plating and salad on the side, though.
A group of rowdy teenagers might seem out of place in this reasonably serene, cheery environment, but Bitter+Sweet certainly hits the spot for a casual hangout. With unlimited wi-fi and a comfortably modern interior, this cafe encourages customers to sit back and enjoy. A slightly upscale price range means this will probably not be the most frequent student lunch destination, but an occasional dessert would be well-worth the price. The novelty of the Bitter+Sweet menu beats out other tired pick-me-up options, so the trip to this cafe will be less bitter and more sweet.
Bitter+Sweet is located at 20560 Town Center Lane in Cupertino. Open from 7:30 a.m. to 8 p.m. (Mon. to Thurs.), 7:30 a.m. to 9 p.m. (Fri. to Sat.) and 9 a.m. to 6 p.m. (Sun.) Visit the Bitter+Sweet website at www.bitter+sweet.com.

This work is licensed under a Creative Commons Attribution 3.0 Unported License.