Baseball CCS: Matadors lose in first round against Palo Alto Vikings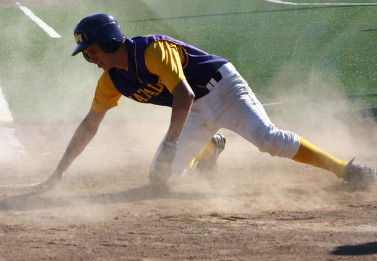 Matadors lose 10-2 to the relentless Vikings offense
The Matadors (15-11) knew coming into the first round of CCS on May 18 that they had a huge obstacle in their path. Coming in as the 14th seed, the Matadors took on the third-seeded Vikings (24-9) looking for an upset. However, the Vikings offense and strong pitching left MVHS unable to get past the first round.
Vikings starter senior Graham Marchant pitched strong enough to keep the Matadors at a low score. The Matadors got five hits off of him, but were unable to capitalize on any of the scoring chances.
The Matadors' starter senior Matt Hopkins had a rough outing against Palo Alto, allowing six earned runs in six hits allowed.
"We didn't throw enough strikes early on, [and] we walked too many hitters, but I think overall their offense was strong," assistant coach Robbie Hoffman said.
Hopkins started the first inning with a walk to Vikings junior Bj Boyd, who later stole second and scored on a double by senior Christoph Bono. The Vikings offense kept going from there by adding two more runs in the first inning and getting another three in the second to make the score 6-0.
"Palo Alto is very talented team, up and down their line up," sophomore Peter Stern said.
Only after one and a third innings, Hopkins was taken out for Stern to come in to relieve. Stern pitched strong relief, for the next three-and-two-thirds innings.
"[Hopkins], our starter, struggled throwing strikes a little bit, and then Stern came in and threw the ball well, got ground balls and got us out of innings," coach Brian Sullivan said.
Aside from the strong Vikings offense, the Matadors offense was lacking as they were
unable to capitalize on scoring chance. One instance was when clean-up hitter senior Connor Criddle struck out with two men on base, leading to junior Matt Kelley's hit into a untimely double plays to eliminate scoring chances.
The Matadors were only able to get two runs over the course of the whole game off of senior Grant Manely's single up the middle to score juniors Jimmy Roslund and Austin Burrow.
Junior Austin Burrow came to pitch in the sixth inning, but allowed the Vikings to land their final blow with a two-run homer to make the score 10-2 at the end of the sixth inning.
Their last chance was in the seventh inning, but after two strike outs and a flyout, there were no more chances. The Matadors were unable to get the win to get past the first round and ended their season in Palo Alto.
"We need to play a lot faster [in CCS]," Hoffman said "We got a chance for our juniors to play a team that plays at a different pace and does many things well. It was a good experience for us."