Teacher wins Barnes & Noble's "Favorite Teacher" Contest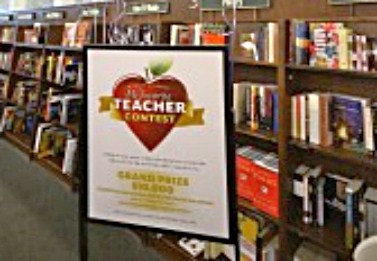 There was a time when I memorized formulas for math exams," senior Evaline Tsai wrote. "With the help of my trusty TI-84 graphing calculator, I didn't have much trouble with the subject until I took the [Pre-Calculus Honors course] taught by the one and only Mr. Kim, famous throughout the school for his deathly difficult tests and quizzes."
In March, Tsai entered the book store's national and regional "My Favorite Teacher" contest for students from kindergarten to grade 12. Students wrote an essay, poem, or thank you letter to or about a teacher who had influenced their life.
Tsai's essay won the regional contest, placing Kim as one of the top six teachers in the national contest. He was honored at a reception at the Stevens Creek Blvd. Barnes & Noble on  May 6, winning a Nook eBook reader and $500 Barnes & Noble gift card.

Tsai's essay was about how Kim helped her finally appreciate math. "I thought it would be a personal and special way to thank him for all he's done for me. He [has] a one-on-one method- he focuses on teaching the class but also really teaches you outside the classroom if you need help," Tsai said.
Kim was Tsai's teacher her sophomore year, but now, two years later, she says he is still one of the teachers she visits most frequently.
"She had such a high level of understanding [of math] that I really pushed her to understand the "why"… why things are the way they are," Kim said. "My class is tough, but it's nice to see that [students] carry something with [them] afterward."
More information about the contest can be found here: http://www.barnesandnoble.com/u/my-favorite-teacher/379002376/