Boys varsity volleyball lose 2-3 against Homestead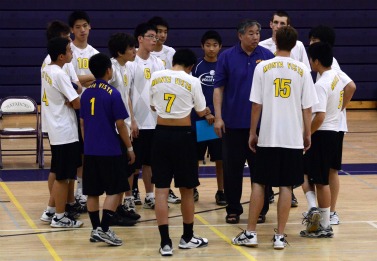 Matadors face an upsetting loss in the fifth game despite their strong start



Triple blocks, phenomenal saves, and powerful kills were present from both sides of the court on April 14. Although the Matadors had a strong start to the match, they were unable to fend off Homestead High School, losing a close 2-3.
Key plays from seniors Jason Hodges and Zachary Lamm led the Matadors to an early 7-4 lead. The strong start helped the Matadors maintain the lead throughout the first game.
Setter sophomore Derek Chiu wisely placed the ball within the court both for his hitters and to surprise the Mustangs, tipping the ball to score twice consecutively 12-7. Similar in playing styles, Homestead and MVHS fought hard for points, resulting in long rallies between the two teams.


However, serving errors governed the team's momentum, as they allowed the Mustangs to catch up in the end 22-23. However with powerful hits to the back corners of the court, MVHS pulled off a solid victory in the first game 25-22.
Unfortunately, the second and third games were not executed at that same level. Mistakes were abundant and slowed down the Matadors' rhythm, and they were unable to put themselves back into the lead.
"We couldn't convert our chances and hits. The combination of our hitting issues and their strong offense led to our losses," coach Paul Chiu said.
MVHS lost the games 20-25 and 16-25 due to the Mustangs' increased energy and teamwork on the court.
Pressured, the Matadors took immediate control of the fourth game and led a dynamic start with miraculous saves in the back row paired with kills at the net. An increase of energy allowed them to pull out from their lapse and steal an early lead 10-4. Lamm, Chiu, and senior Ben Alberts led the offense to capitalize on the Mustang errors.
Hodges wisely placed the ball in the court throughout the game, as the Matadors extended their lead 19-10. After a save at the net, Chiu found the opportunity to send a perfect set to Lamm who pounded the ball deep into the far right corner in no possible reach by any Mustang defenders.
{cc-by-nd}