Students are no longer punished for guessing on AP tests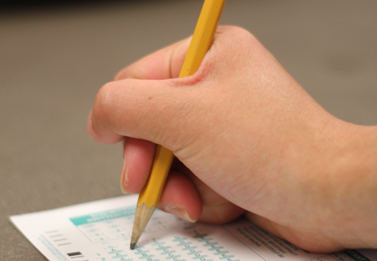 Students are no longer punished for guessing on AP tests
Last year College Board announced it would be redesigning the structure of several AP courses. A spokesperson from College Board said the redesigned courses increase emphasis on "conceptual understanding and discipline-specific skills, resulting in fewer and more complex multiple-choice questions."
Changing the courses then required changing the AP test itself. In the past, test-takers received points for the number of questions they got correct, then lost one-third of a point for incorrect answers on questions with four answer choices, or one-quarter of a point on questions with five answer choices.
Guidance counselor Shari Schussel thinks the removal makes sense. In fact, according to Schussel, the tricks students learn to accommodate the penalty distract from the actual test-taking.
"[Without the guessing penalty, students] don't have to think strategy," Schussel said. "They don't have to think of tricks to answer questions. They just focus on taking the test itself."
On the other hand, junior Paul Han, who is taking five AP tests this spring, thinks the change isn't for the better. He believes the guessing penalty forces students to be more cautious when choosing the correct answer—learning test-taking strategies like process of elimination. But now that there's no longer the need to be extra-careful, students will inevitably be more careless.
Senior Stephanie Wang, who is taking six AP tests this spring, believes removing the guessing penalty also changes the way students will view the AP test.
"[The removal of the guessing penalty] allows students to focus solely on the content of the test rather than calculating whether or not they want to guess or not," Wang said.
But regardless of whether or not the changes are beneficial, the change in policy marks a moment in AP testing history.