District installs vending machines as part of pilot program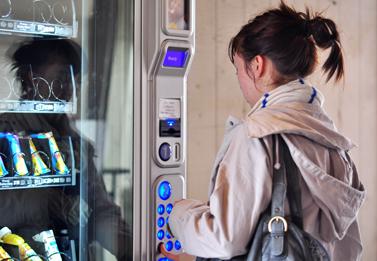 New healthy snack dispensers revamp vending machine's previous unhealthy image
Don't want to wait in the cafeteria line? Don't feel like hunting for food off campus? Don't have the hankering for a standard bag of chips? Now, you don't have to—food is available at the press of a button.
On Feb. 25, FUHSD installed a vending machine from Natural Cravings Healthy Vending in front of the cafeteria as part of a pilot program extending until June 2011.
Older machines had been previously installed as part of a 10-year contract between FUHSD and Pepsi. After California Senate Bills 12 and 965 took effect in July 2007, revising nutritional standards for individually-sold snacks and beverages, the company was able to dispense Aquafina water bottles and little else. The district terminated its agreement with Pepsi early and removed the machines in 2009.
"Believe me, I knew what I saw and I didn't like what I saw, but I couldn't do anything about it," FUHSD director of nutrition services Bill Schuster said. "But now we're no longer contractually obligated [and] we can do what makes the most sense for the kids."
For Schuster, who emphasizes the importance of serving healthy options, that meant finding a machine vendor that provided all-natural products and complied with Senate Bills 12 and 965. After a little bit of Internet research, he contacted Natural Cravings Healthy Vending to set up a pilot program. Schuster chose MVHS and Fremont High School, which received its first machine in early February, as testing grounds for the market.
"My objective is to see how students react to something that costs a little bit more but is a heck of a lot healthier than anything out there, and the response has been incredible," Schuster said.
With the machine requiring refills almost daily, a second machine was installed on March 13 in front of the Gym Lobby. If student reaction continues positively, Schuster will put the machines out to bid in June with a public announcement and more will be installed throughout the district by the 2011-2012 school year.
Despite minor initial concerns that vending sales would compete with the cafeteria, there is little overlap between the two product selections. MVHS food services supervisor Frank Lihn approves of the added convenience for students—shorter lines and more snack variety. Fractions of the vending sale proceeds are also funneled to various groups on campus, including the cafeteria; Lihn considers the new additions to the campus a "win-win situation all the way down the line."
Natural Cravings Healthy Vending co-owners Andrew Flachner and Brett Bernstein attribute much of the success to the quality and novelty of the products offered. From vitamin-infused Wat-aah! bottles to bags of pita chips, the company prides itself on keeping the snacks and drinks offered all-natural.
"We have had requests at other locations… where somebody says 'Well, I just want my Snickers,'" Flachner said. "Unfortunately, you can't have your Snickers because we're all-natural and organic."
Rather than the traditional junk food vending machines, the co-owners maintain that providing healthy snacks is the right thing to do. Flachner points to Baked Lays as an example of how typical vendors mislead and harm consumers.
"Most people would say 'Oh yeah, it's good. It's better for you, it's healthy,'" Flachner said. "While it is healthier than some of the products out there… you shouldn't look at the back of a package and have difficulty pronouncing some of the ingredients."
According to Bernstein, the company vision also developed as a result of personal experience. The company was originally founded in San Diego in 2007 by his previously-obese father, Marc Bernstein, who shed 115 pounds and decided to share his new health-awareness with the community.
"The difference it's made in his health and his personality and his activities, it's mind-blowing," Bernstein said. "It's the right thing to do to have healthier products for kids. There's no reason to be spoiling any futures… because of the quality of the snacks that are provided at school."
The company objectives seem to align with those of the cafeteria, as Lihn has moved towards lower fat and sodium nutrition with the introduction of salad bars and more meals cooked from scratch.
"I think it's safe to say that nation-wide, there's more of an awareness of nutrition… everyone [is] in favor of health," Lihn said. "It still is kind of the junk generation, but we're moving away from that."
For more information, visit the Natural Cravings Healthy Vending official website.
Update March 30, 2011: The Natural Cravings Healthy Vending official website has been linked.
Correction: The Natural Cravings Healthy Vending company name was previously misstated.
{cc-by-nd}