Greetings from the South Pole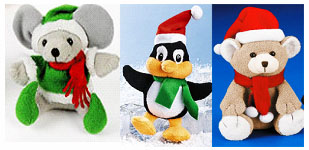 Tiffany Lau
December 9, 2009
Community Leadership sells adorable plush toys to help World Wildlife Fund
It's that time of the year again when everyone's a Secret Santa or making holiday cards, for 'tis the season to be jolly. But with the economy down and the low wages teenagers are typically paid, extraordinary gifts are tough to buy for friends.



Community Leadership's Environmental Commission took this opportunity to offer students a chance to buy their peers an adorable plush beanie at an affordable price while supporting the World Wildlife Fund.




The World Wildlife Fund (WWF), one of the world's leading conservation organizations, is dedicated to conserving nature. Its mission is to ensure that a harmony between human and animal needs will be established in the long run.



The Environmental Commission's vision is similar to that of the WWF: it aims to spread environmental awareness within the Cupertino community. Each year the commission conducts projects such as the E-Waste Drive, the Tree, which educates elementary students how they can help the environment, and Arctic Buddy Grams.



Last year, the Environmental Commission raised ar
o
und $200 from the Arctic Buddy Grams and even sold out twice. But this year the commision lacks the same luck.


"So far it hasn't quite measured up, but it's not the end yet," Environmental Commissioner junior Anuved Verma said. "Last year we got a lot of orders at the end, so [this year] maybe we'll get more, maybe we won't. We just have to hope for the best."



The Environmental Commission has been advertising the Arctic Buddy Grams for the past two weeks. Still, not many students are interested in buying the grams.



"A good amount of people know because it's on the announcements and

School Loop

," sophomore Vincent Chao, who bought a gram, said. "But not a lot of people really care about it."



Students can buy a plushy for $3 each or two for $5 until Dec. 9. All the proceeds will go towards WWF, either to adopt an animal, donate to a specific species

' rehabilitation

, or to help a project, like conserving the coral reefs, WFF is currently undertaking.