Slow and steady win the race for recovery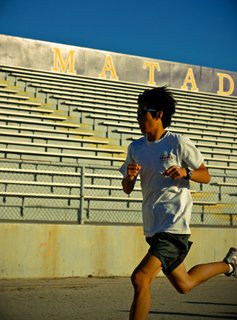 Recent illnesses have plagued the boys cross-country team
The next race that the boys cross country team needs to win has nothing to do with speed. Instead, the race is all about making a full recovery from various illnesses and injuries, so that the team can be competitive heading into CCS.

With number one runner senior Kranti Peddada, who led the boys to an eighth place finish at CCS last year, and number three runner senior Alex Cheng out with the flu recently, the team did not perform as well at their pre-league meet at Crystal Springs on Oct. 22 as they would have liked.

Since two of the top varsity runners could not run, Coach Jeff Payne decided to pull up the top two runners from the junior varsity cross country team to fill the gap. As a result, both the varsity and junior varsity teams were impacted because both teams essentially lost their top runners for the meet. Even with the illnesses, the team remains optimistic and believe they will bounce back in time for CCS.
Cheng and Peddada have recently recovered and are working to get back into their routines. Payne believes that they should be ready within the week so they can run in the first league meet.

"Normally, I try to run seven days a week. I was out for five days, but in the long run, it isn't that bad. We're definitely going to make CCS," Cheng said.



The process to recovery can be long and grueling, but keeping channels of communication open with
Payne can help the boys ease the process. Payne likes to have the runners talk to him if they are
hurting or feeling less than 100 percent so he can adjust the workouts to match their current level of fitness.
Payne does not see complications that could arise from these recent illnesses. The runners always want to return as soon as they can so that they can continue challenging themselves to set higher goals and faster times.
However, he mentioned that the team's results would be more drastically affected if these problems were to happen a day or two before a league meet or right before CCS. They would not not have adequate recovery time and ultimately, they would not be able to give a strong performance.

"It's hard [being out] because you can't be as big of a part to the team as you want to. You have to push yourself to do what you can to work your way back up," senior Alex Balaban said.
Payne also wants his runners to be back as soon as possible, especially since he hasn't seen so many cases of illness among his runners very often.
"As fall sports coaches, we aren't really used to having to deal with the flu. It's something that usually the winter and spring sports deal with. I talked to the other coaches in the league and they're also dealing with the same problems," Payne said.
Though nothing is at stake yet, the boys cross-country team will need to find a way to outrun the recent spread of flu in order to remain competitive for CCS. With CCS looming in mid-November, the boys are all striving to remain healthy so that they can finish the season on a strong note.
{cc-by-nc-sa}