From the stands: Empty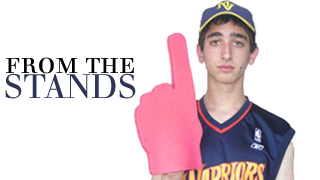 MVHS athletic teams have been winning but they keep wondering where their fans are.
It was an amazing game—but hardly anyone was there to see it.
The boys varsity basketball team played an extraordinary game in the first round of CCS against Alvarez on Feb. 24 in which they came back from down 16 points and finished it off with a miraculous victory. But the bleachers weren't full—they weren't even close. There were many available spaces even though our fans only occupied one side of the gym.
Our lack of support for our athletic teams is humiliating. I was one of the few Matador fans voicing my support, but it is difficult to cheer if no one around you starts it off or joins in. Our side of the stands was so quiet even at our own home game that at halftime, Deans of Students Denae Moore and Michael Hicks had to give us a wake up call to remind us to cheer and encourage our team. After we started showing our support for the Matadors, they came back with an amazing run in the second half.

Two days later, administration even arranged for a bus to transport students who were willing to go to the CCS second round against the Salinas Cowboys. Only seven students showed up for the bus—even after the amazing victory in the previous game. When I got there, I noticed there were many more Matador fans wearing our unique purple and gold school colors. But I then realized the Cowboys school colors are also purple and gold and all the other people were actually there in support of Salinas.
Only approximately 10 Matador students showed up to the game to support their team. Although these few fans were vocal in their support, there was nowhere near the amount of support the home team, Salinas, displayed. Many of our cheers for our team were drained out by Salinas' much louder chants. The gym was packed with so many Salinas fans that the large bleachers had trouble seating them all.
The only time we got any fans in the crowd was against Lynbrook because of a major controversy. A Facebook event was created to promote the game for MVHS and many people joined, including students from both MVHS and Lynbrook. They began arguing and created various disputes through wall posts.
We shouldn't need to create conflicts in order to earn support. We should naturally have the school spirit within us to show up at the games and support our teams. But none of our sports teams receive the support they deserve. Even the senior game for our boys basketball team didn't draw any fans. Contrary to thoughts around the school, our athletic teams have been playing really well and need encouragement to keep it up.
It is this support, the sixth man, that gives an advantage to the home team. But our school lacks this support every game.
Support your school. Come to games. Cheer for their success.