Marquesas states competition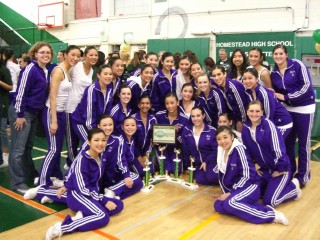 This Saturday the Marquesas dance team will be competing at home for eligibility at national championships

On Feb. 14, the MVHS Marquesas will compete at the second national qualifier hosted by United Spirit Association. Their performances include Large, Medium, Kick, Small and Lyrical. At last weekend's competition, the dance team qualified to compete in the Large division at nationals. The dance team wants to qualify in four more divisions: Kick, Small, Lyrical, and Medium. The whole dance team will participate in the Large division, 10 members for the Medium, 19 members for Kick, and around seven members for Small and Lyrical. They will be dancing to songs including "That's Not My Name" by The Ting Tings and "Top of the World" by the Dixie Chicks. There will also be solo performances by junior Katherine Ong, and seniors Christine Yee and Neesha Tambe.
According to Yee, the team captain, audience turn out from MVHS is especially important. At the last states competition only five MVHS parents showed up.
"[With fewer audience members], it makes it harder to dance and it also hurts our showmanship," Yee said. "We're hoping [that] by having [the competition] at MVHS, there will be more people to cheer us on."
This will be the last competition before national finals and around 10 to 15 teams are competing in different divisions. For the solo competition, there will be around 50 or fewer competitors—three from each school. Each division will have fewer competitors; for example, in Large, MVHS is only competing against Archbishop Mitty High School. The competition will take place in the gym, starting at 8 a.m. and ending with awards around 6:30 p.m.
"After this past weekend's performance, the whole team is geared [towards qualifying]. We want to qualify this weekend and we're going to do it," Yee said.