Hypnotic assembly cancelled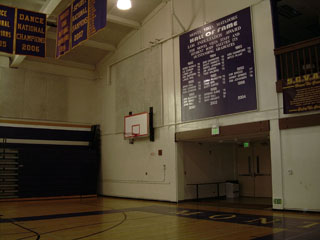 Assembly featuring hypnotist cancelled due to parents' and administration's concerns.

Back In Action week, traditionally known as Relax Week, kicked off the first week of second semester with thematic daily lunchtime activities. Student Life Commission, the group in charge of the event, originally planned to conclude the week with an assembly featuring a surprise guest, hypnotist Russ Peak. On the afternoon of date, however, the entire staff received an email about the cancellation of the assembly.
After Peak performed in a similar assembly three years ago, some students who had been hypnotized in the assembly complained of being teased and ridiculed, resulting in a small number of staff and parents expressing their concerns, according to Deans of Students Denae Moore and Michael Hicks.
"It's just a bit of a miscommunication [in administration] is what it kind of boiled down to," Hicks said. "Unfortunately, this resulted in having to cancel the assembly."
The previous assembly that Peak performed in occurred three years ago—before the current Deans of Students and members of the Student Life Commission had entered their positions—so neither was aware of the ban on the hypnotist. Principal April Scott, who learned of the plans during a lunchtime activity, spoke to the Deans of Students, and they opted to cancel the assembly two days beforehand.
"We felt that maybe we're not setting the right tone or example for the student body, saying that it's okay to kind of make fun of people in public here, but outside we're trying to maintain an environment that's respectful. So we just saw it in conflict with [the message] we're trying to send to students," Assistant Principal Dennis Plaza said. "We can be traumatized enough by our own behavior, let alone an imposed behavior that we have no control over."
While this assembly may have been canceled, Student Life Commission is working toward another one in the future. "[Students] work so hard, and they never get rewarded," Student Life Commission member senior Devina Khanna said. "Whether it's in a week or in two weeks, I want something happening… [The students] deserve it."