From the Stands: Can't hold back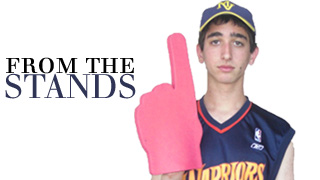 Sitting in the Press Box for the Sharks game became difficult when I found out I couldn't cheer

I'm sitting and watching the Sharks game. Sharks score! The entire crowd erupts and I want to cheer along as well. I automatically throw my arms up in the air, but then I stop and pretend to scratch my head instead. Why? Cheering isn't permitted in the press box.
On Dec. 4, I attended the Sharks game versus the Columbus Blue Jackets. But this was no ordinary time watching a Sharks game—this was something special. Through a contest hosted by the Sharks, I was one of 10 high school journalists selected to go to the Sharks game and write about my experience. This included meeting famous journalists, players, and the General Manager of the Sharks, Doug Wilson.
We watched the game from the press box and everything there made the experience amazing. The high-definition TV to watch replays and other games during intermissions, all you can eat hot dogs and sodas, comfortable seats, and the stats of the game directly provided to us. Everything was amazing except for one thing: the no cheering rule.
I am a Sharks fan at heart—and the passion is always there. When I had to just sit down with my hands at my side, politely watching the game, I could hardly control myself. From the moment the players came onto the ice, I began to clap. But then I looked around and noticed I was the only one cheering, and then realized what I was doing. I had to hold back. And this was not as simple as it sounded, especially in an arena like HP Pavilion with such electric fans.
For my entire life I've cheered for my favorite teams. Wherever I am watching the game—especially in the stadium—my emotions go crazy throughout the game. When my team scores, I celebrate in support. When the ref makes a call I disagree with, I yell at him. When something goes wrong, I boo in disapproval. But at this game, I could not do any of this. And with all the Sharks fans around me screaming their hearts out, I struggled to contain myself. The 'Let's Go Sharks!' cheers flooded my ears. Hearing the rest of the crowd going crazy and having to hold back was so difficult. Multiple times I would begin to cheer and have stop myself. This was the only downside to the entire night. Well, that and the pole slightly obstructing my view, but I could shift my body to see around that.
Before the game, we interviewed Yahoo! Sports writer Ross McKeon, and the General Manager of the Sharks, Doug Wilson. Each interview was memorable and taught me so much not just about journalism or hockey, but about more general things that apply to life. With Ross McKeon, we went off asking questions primarily regarding journalism and his experiences with it.
But then next came the most exciting part of the night: the interview with Doug Wilson. My heart started to beat faster as he he entered the room for the interview. But Wilson was so calm and composed that it rubbed off on the rest of us and made the interview as smooth and productive as possible. He opened up and told us all about his decisions and management, responding to all the personal questions we asked. "The greatest players respect the game immensely," Wilson said. "They never think they are bigger than the game."
When asked about how he knew to hold onto captain Patrick Marleau when he was going through a tough time in his career last year, he brought up the tea bag theory: "Throw someone in hot water and see what they're made of," Wilson said. They held onto Marleau even when the media encouraged them to get rid of him. It proved to be a great decision as his play became much stronger nearing the end of the season and into the playoffs.
He discussed many things about his life in addition to what he said about the Sharks and hockey. He said, "I've never had a real job. I only do everything that I love." He also mentioned that one of his most rewarding jobs for his career was when he worked with Coca Cola to help him learn about business.
I got a lot of insight about the Sharks and his life through the interview.
The Sharks game was a constant struggle and one of their weaker ones. They didn't play very well according to Wilson, but they did manage to pull out a victory and keep their win streak going at nine games despite being outplayed by the opposing Blue Jackets.
After the game, the contest winners all went down outside the Sharks locker room and waited for some players to come out. We managed to get casual interviews with Dan Boyle and Douglas Murray in which each of us quickly shot a question at one of them and they replied. One of the other kids there was ecstatic that his arm brushed Murray's during the interview, but I was happy enough talking to him. After all, I did shake hands with Doug Wilson, and I did not need to hide that.
It was an amazing night and I did not want it to end. But now I don't need to hold back. I can cheer as loud as I want.