Celebrity Stalker: Everybody Loves Barack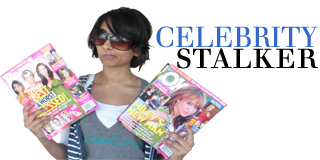 Everyone's attention is on the new president-elect. And what kind of dog he'll be getting.
Last year, I lost my precious iPod Nano on the last day of school. This

,

combined with the 200 pages I had to read for A.P. U

.

S

.

History

,

was a wonderful way to start

off

the summer.
However, all this came back to haunt me a few weeks ago
when I, along with some members of the journalism and yearbook
staff
, went to St. Louis for the National

Scholastic

Press Association conference. I really wanted my iPod for the six
–
hour plane ride, and I really didn't want to read about the
annexation
of Texas in 1845.
My solution? I rushed over to the overpriced souvenir store at the San Jose airport and
bought People and Time
Magazine
. What were they all about? Barack Obama
,
of course. People Magazine had an entire 10
–
page spread of pure Obamania with tons of pictures of his family, mentioning everything from where Michelle Obama shops to what car
Barack
drives.
And, i
f you're really curious, it's a
Ford Escape
Hybrid
. The
Obama girls had full schedules: soccer, dance, and drama for Malia and gymnastics, tap, and piano for Sasha.
Time
Magazine
was no different. Actually, for the past few months, Barack has been on the cover for almost every issue.
The particular issue I had purchased
talked about rumors that Hillary Clinton would be Obama's new Secretary of State.
Oh, and how can we forget the first puppy? The media and most Americans are pretty much on the edge of their seats regarding which hypoallergenic dog will be picked.

I completely agree. The breed of the first dog is unquestionably
the
most monumental decision Barack will have to make during his term.

Another creepy aspect, MSNBC even interrupted their normal programming to show footage of Barack dropping his kids off to school. Now, you can watch it on Youtube over and over, if you'd like to experience the sweet family moment again. Just search "Super Dad Barack Obama."

If I didn't know better, it'd feel like the Obamas were on a family sitcom that might as well have a name like "Full White House" or "Everyone loves Barack." But I'm not exactly happy about the "celebrification" of the currently sweet and innocent Obama family.
It feels like more and more political families are turning into movie star families instead, with plenty of scandals and exclusive television appearances.
President Bush's daughter Barbara Pierce Bush was trying to use a fake ID to purchase alcohol. Not to mention,
Sasha and Malia have been repeatedly asked to guest star on their favorite TV show "Hannah Montana."
Fortunately, Barack's putting his foot down for this one.
The media is a terrible force. Barbara Bush was scrutinized by tabloids when her father took office. And now, I think they're evil enough to break down the wonderful and cute Malia and Sasha into the next scandalous headline by the end of Barack's sitcom. Sorry, I mean term.