Family Gene-ius: My Picks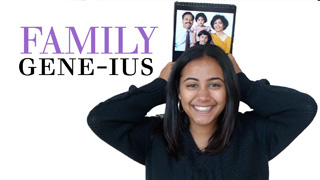 Shreya Shankar
November 13, 2008
Learn just who exactly is a member of my family – it might surprise you!
When I heard that Jayden James Federline, Britney Spears and Kevin Federline's youngest child, was rushed to the emergency room on Nov. 9, I panicked. Severely.
Before you judge me for caring so much about a celebrity baby that I don't even really know, allow me to defend myself.
A few days ago, my best friend, senior Ryan Satterlee, and I were discussing my lack of inspiration for this week's column. The conversation digressed to one of his college essays where he talked about how family is important to him and that his definition of family wasn't limited to those who share the same blood as him. Thanks for the inspiration, Ryan.
If I think about the amount of people in my "family," it can be a little overwhelming and…well, bizarre. I have my core, blood-related family and then my list of family members becomes unconventional.
First and foremost, I have my friends. They're the ones who walk into my house without ringing the doorbell; the ones who watch Indian soap operas with my mom while I'm upstairs in my room doing homework; the ones who live all around the world, and when seeing them after more than five years apart, make me feel like I just saw them yesterday. When I'm frustrated and feel like I'm going to explode, these are the people I call, knowing that they'll always listen.
My next family unit consists of my teachers. Though I don't spend as much time with them as I do with my friends and parents (though the almost daily three-hour review sessions for the A.P. U.S. History test last year convinced me that I did, in fact, see social studies teacher Margaret Platt more often than my own mother for a few weeks), they see me thrive and struggle—sometimes in the span of a 50-minute class. Where my parents and I can be happy one day and exasperated with each other the next, my teachers provide me with a familiar place to go each day. They notice when I'm having an off day and take the time to offer an ear. I'll never forget the day that, like many students at MVHS, I felt bummed out by one of my SAT scores. When a teacher noticed and had me tell her what was bugging me, she simply said: "You are so much more than a number." I've always known this, but hearing it from someone I knew cared about me and wanted to see me succeed made me actually believe it.
Now, the next part of my family may not seem the most conventional. If you know me, you know that I've had an affection for Britney Spears since I was 8. I've grown up watching her hit the top of the charts and then fall…hard. I taped all of her appearances and knew all the lyrics and dance moves by heart. I'm not the fan who liked her only when she was at the top. I spent so much time explaining the context of what was happening to her during her dark days that people thought I was her publicist. When I see how far Britney has come, I feel a genuine happiness that the average person who only reads tabloids doesn't. I've involved myself in the journey from the beginning because as a true fan, I care about her. A group of girls on a message board I post on are my family because through the entire year of 2007, we talked and hoped for Britney to recover—not so we could get more music, but so that we could know the superstar we'd idolized for a decade got better for her kids and herself. Britney Spears may not consider me family, but in a way, she's family to me.
They say you can't pick your family. I disagree. The people you choose to surround yourself with—that is your family. They're the people you call when you get good news, and watching them thrive makes you feel happy.
So when I heard that Jayden had been released a day after entering the hospital for a severe allergic reaction, I had every right to feel the relief that any of the Spears family members felt. It makes more sense now, doesn't it?