The Roots Get Busy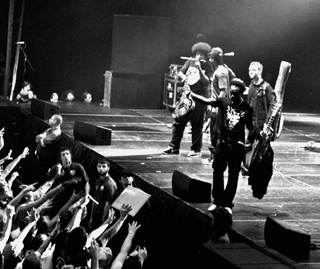 Akshay Agrawal
October 29, 2008
The Roots, Estelle, and Gym Class Heroes hit the stage in San Jose.
Co-headliners Gym Class Heroes and The Roots shared the stage with Estelle at the San Jose Events Center on the night of Saturday, Oct. 18 . Tribal beats, smooth jazz and swing influences were seamlessly melded into modern hip-hop by the talented and impressive lineup.
While The Roots overshadowed the rest of the performers, their raw talent on stage more than made up for it.
Her cameos with Gym Class Heroes and The Roots Estelle, whom many people missed, began her set before the official starting time and wrapped up her part of the show with the hit single "American Boy.", including "Guilty As Charged" with the Heroes and "You Got Me" with The Roots, displayed her expressive voice and amped up the audience.
Gym Class Heroes generated the loudest sustained cheering of the night, with frontman Travis McCoy's 6' 5" frame commanding attention and exuding a very tangible charisma. Garnering the crowd's enthusiasm seemed relatively effortless for McCoy, who took the stage with unrehearsed ease and a devil-may-care demeanor, screaming, "All the sexy people make some noise!… All the ugly people be quiet." I settled for clapping mildly.
Their set hit its apex when Estelle made her appearance, bringing a crew of impressively un-tacky backup dancers. The Heroes also whipped out a well-delivered but somewhat random cover of Prince's "When Doves Cry," complete with purple stage lights and perfect harmonizing.
The Roots, on the other hand, relied on their music to do the talking for them. A surprise appearance from rapper Mos Def, who featured on the track "Double Trouble", as well as godly solos by each member of The Roots rounded out their set, reminding the audience why the band is known as "The Legendary Roots." Featuring a sousaphonist known as "Tuba Gooding Jr.", The Roots were full of unexpected twists and surprises. One such surprise was a medley of Led Zeppelin and Guns N' Roses, led by guitarist Kirk "Captain Kirk" Douglas, whose solo was a crowd favorite.
Despite co-headlining with Gym Class Heroes, The Roots proved to be the real heroes of the night with their extravagant talent show. Estelle's appearance during the Heroes' and the Roots' sets greatly amplified the energy and excitement, proving that some soulful accompaniment can up any gangstas game.