MVHS implemented the Wellness Room in room C201 for the 2023-34 school year. According to Wellness Space Specialist Doreen Bonde, the Wellness Room allows students to reset physically and mentally when they are feeling overwhelmed, stressed or upset.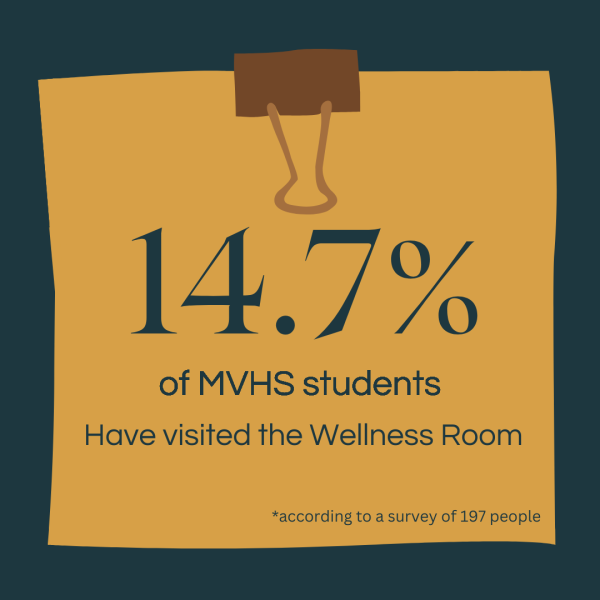 "The Wellness Room is a place where a student can come in and take care of themselves so they're able to, in most cases, go back to class and finish the school day," Bonde said in an email. "We offer a number of different tools that students can choose from in order to self-regulate, depending on their needs. Some want to lie down quietly, some want to do a calming activity like coloring, journaling or building with Lego, and others just want to talk."
The Wellness Room is open throughout the school day, and students can go when they are in class by asking their teacher for a wellness pass. However, students are limited to 15 minute visits, both during and outside of class times. 
Science Curriculum Lead Kavita Gupta helped push for the implementation of the Wellness Room, along with many other teachers who were inspired by Wellness Centers established at Gunn High School and Palo Alto High School. She believes students will be responsible about using the Wellness Room during class.
"I believe in our student body enough not to misuse this great opportunity," Gupta said. "So my faith is [that] it'll be used for the right reasons. Monta Vista students do not really want to be leaving their classrooms a lot, so I don't know if there's that potential for abuse. So I think it'll be students who really need a little downtime or feeling frazzled. I am of the opinion that it is a good thing, and I believe in our students to do the right thing."
Junior Harini Alwar, who has used the Wellness Room this year, agrees the 15 minute rule is effective. She says despite initially being unsure if students would have enough time to calm down in 15 minutes, she changed her mind after experiencing the room herself.
Bonde says wellness initiatives first began in 2018, when the District Wellness Council regrouped to focus on student social and emotional health. In 2019, the Santa Clara County Office of Education marked the start of student wellness centers by opening them at 12 elementary, middle and high schools.
Gupta adds that MVHS previously found other ways to implement wellness initiatives. For example, she helped organize Tranquil Tuesday in room A112, where activities such as board games or karaoke helped reduce student stress. Although Tranquil Tuesdays ended when COVID began, Gupta sees it as an early prototype of the Wellness Room that gathered student interest in stress-free spaces.
Alwar participated in a demo of the Wellness Room last school year. She enjoyed the experience and decided to go to the Wellness Room again this year, finding that MVHS had improved on the room since the demo.
"I think it was a lot more spacious," Alwar said. "They had a more organized layout. And the thing I loved the most was definitely the magic easels. You have a brush and you dip it in water and you can draw on it. I think that addition was very nice."
However, Alwar says the room could benefit from more options for activities. Although she still enjoys being in the Wellness Room, she adds that students who are looking for more privacy may not find the room to be ideal.
"Some people just want to be alone when they wind down," Alwar said. "Since the Wellness Center is a public place, they might not get that as much. But I do think I definitely want to go there again. I feel like next time I go there, there'll probably be new things. And I want to go with my friends and it's just a very pleasant experience. It's very calming."
Gupta hopes that MVHS will use this year for gathering data and feedback from students to understand what works with the Wellness Room and what can be changed. Bonde also mentions that students can stop by the Wellness Room if they have any questions about the room and want to see what they have to offer. Bonde hopes the Wellness Room will help students manage their feelings and become better equipped to handle everyday stressors.
"I'm extraordinarily grateful to have the opportunity to serve students, staff and the school community," Bonde said. "I can't understate how much care and commitment that Monta Vista has for students. We want to build a culture of caring and wellness here, and we want your voices at the center of everything we do."