College application season is a tumultuous time for many MVHS seniors — paperwork piles up and print-outs loom, but some students have a more specialized undertaking ahead of them than the typical academic fare. 
Every year, aspiring creatives work to paint their paths to success through portfolios of their artwork to set themselves apart from the crowd. Many art students choose to submit their portfolios to CollegeBoard to earn college credit through AP Art.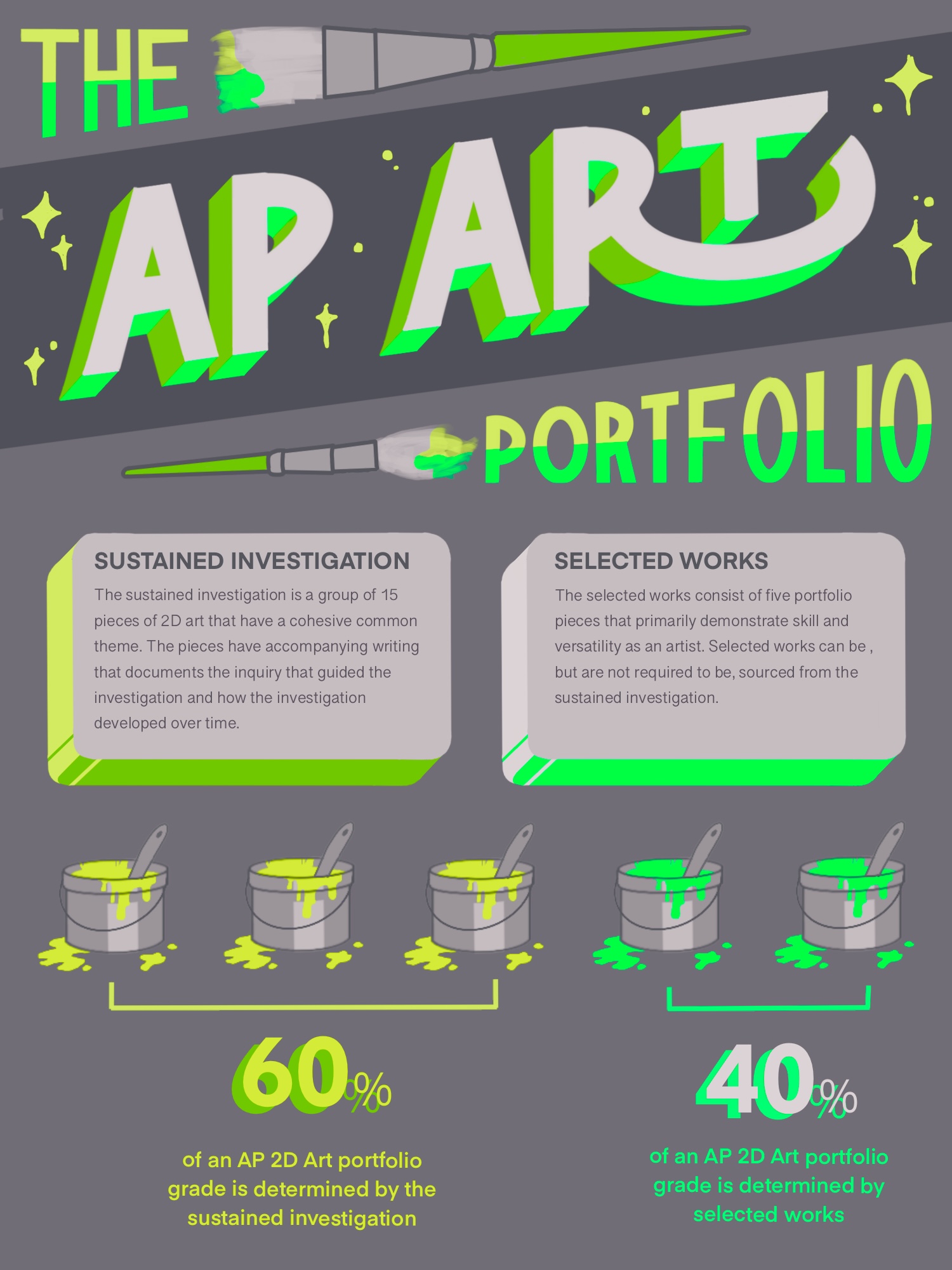 The AP 2-D Art and Design portfolio can be a significant venture, requiring 20 thought-out pieces. The portfolio has two components: five selected works, which demonstrate artistic skills and versatility and 15 pieces for a sustained investigation, which explore a common topic of choice, including abstract concepts such as culture, conflict, and emotions. 
Eva Olsen teaches art portfolio classes at Hongyun Art, which offers extracurricular AP Art and college portfolio classes to local high school students. Having guided many students through submission, Olsen acknowledges how rewarding the process of creating a structured portfolio is.
"[Creating the portfolio] teaches the students to think bigger," Olsen said. "They can work towards this achievable goal, and then feel a sense of accomplishment at the end."
Despite how advantageous these submissions appear, MVHS does not offer any AP Art courses. Art teacher Jay Shelton believes that this is not a detriment, because many students have misguided eagerness to take courses solely for AP credits.
"There's a [view] that kids have here," Shelton said. "They think that AP is always superior, they want to see it on their transcripts. It's just a title — it means nothing to an art college."
In Shelton's experience, AP Art is not a good pathway for a student to take if they plan to pursue art in higher education. The MVHS art program prioritizes more niche classes like film and animation, which Shelton argues will better prepare students for specific career pathways.
"If a kid wants to be an art major, we spend the whole time building their portfolio," Shelton said. "We have no need for [an AP art class]. The careers that our students go into require very specific portfolios, which is not what the AP is."
However, for senior Lemon Liu, self-studying AP 2-D Art and Design became an opportunity to rediscover a neglected interest and expand the scope of their creativity. The decision to create a portfolio was very spontaneous for Liu, and it was a chance to rebuild their skills.
"In exploring different concepts, I familiarized myself with different mediums," Liu said. "Improving along the way made me finally realize that I have something to be confident about."
Liu decided to build an AP Art portfolio in September of their junior year, taking seven months to complete and submit it. Choosing to explore a topic of personal difficulties for their sustained investigation, they integrated their personal emotions deeply into their portfolio pieces.
"I was curious to find new [types of] symbolism and concepts to express my struggles," Liu said. "In a way, I felt like I was drowning in other people's expectations. I [took] the ideas of external pressure and self-conflict and projected it into my work."
Now, Liu is evolving and building a college portfolio. Even for students who are pursuing different paths, an art portfolio can prove to be fruitful in applications. 
Many art teachers, including Olsen, believe that portfolios add a uniquely human aspect to their resumes.
"It provides them a chance to express themselves," Olsen said. "It really shows who they are as a person, beyond statistics and test scores."