Principal Ben Clausnitzer was named administrator of the year by the Journalism Education Association (JEA) on Aug. 22, in recognition of his dedication to journalism education at MVHS. Potential recipients for the award are first recommended by JEA members by July 15, with a single administrator later selected each year by the association. El Estoque adviser Julia Satterthwaite nominated Clausnitzer this year.
"When students reported on the rise in MVHS students sharing their #metoo stories on Instagram, he included a link to the story in his weekly email to all students, parents and staff because he wants the community to know about these issues," Satterthwaite said. "Ben understands that part of how we keep our community informed is through student media coverage, and he has never once declined an interview."
Clausnitzer states that he was honored to receive the award and nominations from Satterthwaite and previous El Estoque staff. He considers it his responsibility as an administrator to support ethical student journalism, hoping to encourage student journalists to report events without bias. 
He believes his close relationship with the MVHS journalism program stemmed from his goals of communication with the school community, even in difficult situations. 
"There might be challenging conversations, or conversations that are more celebratory, but in all situations, I try to be really transparent — that includes El Estoque," Clausnitzer said. "I don't want anybody ever thinking, that as a principal or as a staff, we're taking things and sweeping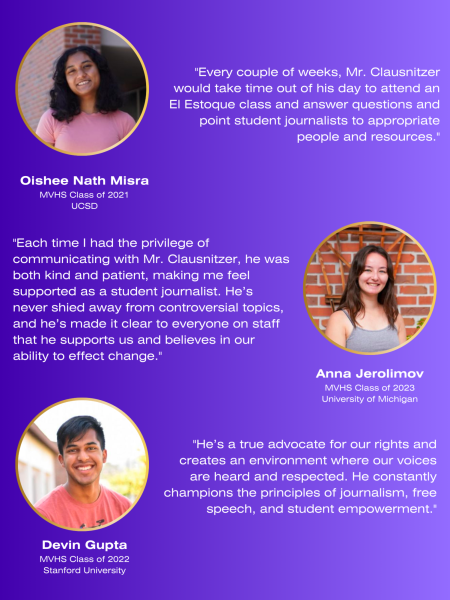 them under the rug. I want people to feel like we are transparent and they have the information they need."
Clausnitzer will be invited to attend and present a session at the Fall JEA/National Scholastic Press Association (NSPA) National High School Journalism Convention. He will also have the opportunity to give a five-minute speech at the adviser awards luncheon, with travel and lodging covered by JEA. Additionally, El Estoque will receive a $1,000 award. 
Moving forward, Clausnitzer plans to continue supporting journalism at MVHS, whether it be financially, or through doing interviews.
"I want to continue having a positive relationship and being open to questions El Estoque might have," Clausnitzer said. "So there's always [a] yes to continuing that transparent conversation, for both El Estoque and our student body and our school community."