Time Out! Ep.4: Maya Gallo
Taking a look at Maya Gallo's journey playing soccer throughout the years
ET: Hello everyone, my name is Eshika Tiwari and this is the fourth episode of Time Out! Each episode, we will be diving into the sports scene here at Monta Vista High School and explore the journeys of athletes from various sports. Today I will be featuring [sophomore] Maya Gallo. Gallo has been playing soccer ever since she was four and continues her soccer journey.        
ET: How and when did you start soccer?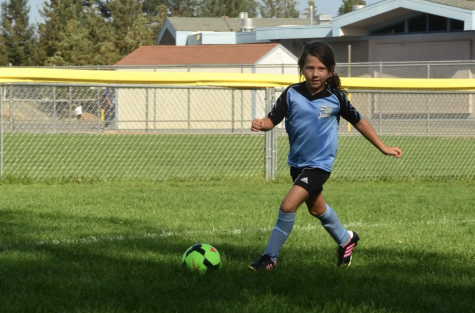 MG: I started playing soccer when I was roughly 4r years old, so I've been playing for about 12 years. My family is really big on soccer, so my dad wanted me to play so he started kicking the ball with me at the age of four, just in our backyard, and then I started playing for my [recreational] team when I was six and competitively when I was eight.
ET: What is your earliest memory of playing soccer?
MG: I would have to say [that] my earliest memory of soccer would be going to this park with my dad, before I moved to Cupertino. I did a camp with a bunch of boys and I was the only girl there who was playing soccer, and I remember being so anxious and nervous to be out there playing with the boys because I probably thought they had cooties or something. But, I remember that day like it was yesterday because my dad always talks to me about it, he talks about how I was so nervous to play, and I just sat there and didn't want to do anything. This other girl ended up coming one time, two or three weeks later, to a practice, and I remember just clicking with her immediately. And we started playing soccer together, and it was really fun. I don't really remember her much, but she's there for sure.
ET: Does playing soccer affect your academic performance?
MG: In terms of playing school soccer, it can affect my academic performance a little bit, based on not having enough time to study or sleep, but I've found ways to work around it. And for club soccer, it doesn't really affect my academics at all.
ET: You said you found ways around it — how did you find ways around making time?
MG: I would sacrifice my time with friends or time that I would take just to relax in order to get all my work done and I also found ways to take time during Tutorial, or free time during classes to work on homework so that I'd be able to finish in time.
ET: How does training vary between your week?
MG: When it comes to school soccer, training's every day after school for two hours, which can take up a lot of time in terms of taking the time that I need for homework. And then for club soccer, our training is only three to four times a week, and the trainings are only an hour and a half per day, so it's not as strenuous on my schedule.
ET: What goals do you have for soccer in the future?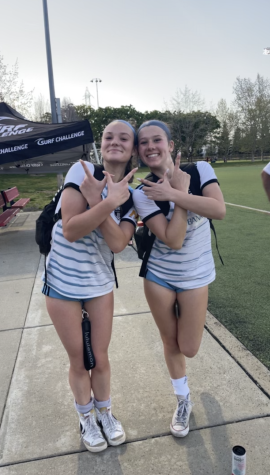 MG: So far my main goal is to hopefully play in college, but I haven't really thought about playing further than that. But, I would most likely want to continue playing. Maybe not at the pro level, but just playing in general and possibly coaching in the future.
ET: What is something you've learned while playing soccer?
MG: I've learned how to stick together with my team and how to communicate and work with the other girls on my team in order to reach our ultimate goal. It's helped me build a sense of family and a sense of community within the soccer world.
ET: How does your team support or influence you?
MG: My team supports me because they have somewhat become a safe space for me where I can express myself without feeling disconnected from each other. And they have helped me in so many ways because now I know that I can rely on them, and I feel as if they're somewhat family to me.
ET: How does family support or inspire you?
MG: My family supports and inspires me in so many ways. Soccer has been in my bloodline for a very long time and my parents are definitely my biggest supporters. My dad always wanted me to play soccer, so he put me in at a very young age. When he was younger, he played soccer most of his life and now he coaches for local clubs in our area. My uncle also inspires me a lot because he was able to not only play at the collegiate level, but he also played semi pro back in his younger days.
ET: Are there any possible places that you would want to go after or during college? 
MG: So, in terms of college, I just started my recruitment process. And I've just started to send out emails to college coaches. And at this point, I don't really have any specific place that I want to go. Luckily, I know that I want to major in kinesiology with the emphasis on majoring in sports med later on. But, as of right now, I'm just trying to get my name out there into the college world but I know for a fact that a dream place to play soccer would be somewhere like UCLA, or Stanford, but that's also because they're one of the bigger medical schools. I know that I'd have to work really hard to get there but I can put in the work and I'll put in the effort.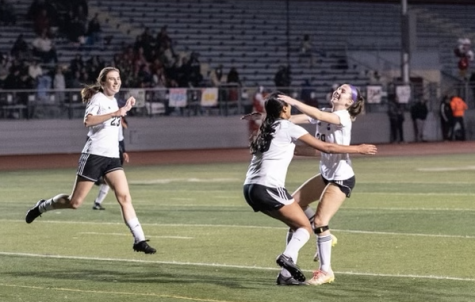 ET: What is something people need to know about soccer?
MG: I think that's something that people need to know about playing soccer is the importance of how having a team can really bring you into a community. Like when you join a team is like your own little group and you have your own little family and you learn to mesh well with these people and you learn how to communicate. And you learn how to trust them on a whole nother level because when you're playing, there's so many different aspects of soccer and everyone needs to be on their A game when they're playing. So I think it just really helps someone build their connections with other people. And that helps you just become a part of a community which I think is really nice and really important in someone's lifetime.
ET: That's it for Episode four of Time Out! Thank you so much Maya Gallo for talking with me. I'm Eshika Tiwari, and thanks for tuning in.