Going to the gym
Observing MVHS students experiences with the gym
Clara Fan
During the first week of summer, sophomore and Varsity basketball player Clara Fan's plans were put on hold as she sustained a broken ankle on her left leg. Fan started going to the gym to recover and prepare for basketball season. 
"My goal going into the gym was to get both of my legs to the same strength," Fan said. "I wanted to get back to the place where I could go full out with my sports because I wouldn't want to immerse myself right into that situation." 
Along with recovering, Fan found herself at the gym more frequently because of her friends. From a simple invitation to work out from one of her closest friends, Fan found the social aspect of the experience fun. 
After getting back from her injury, the next part of Fan's gym journey took place in the school gym. With the rest of the Varsity Girls Basketball Team, Fan hit the gym for preseason training to target specific muscle groups that would strengthen her for the season. 
Fan found the experience to be a positive way for the team to bond and improve themselves. The team's competitive spirit and trying something new together fostered a helpful environment and created fun memories. 
"When I used to go with my basketball team, we'd go on the pull up knock knob notches in the gym," Fan said. "We'd have handling competitions. We'd call out our teammates and say, 'Hey, competition.'"  
Although Fan was scared to come into the basketball season after sustaining an injury, the experience of being at the gym renewed her confidence. 
"Going to the gym strengthened me when I needed it the most," Fan said. "Mentally, I realized it gave me confidence coming off a huge injury. I was getting stronger again [and] that made me more confident going into my sports like, 'Yeah, I'm ready for it and I can take this on.'" 
With basketball season over, Fan does not find herself at the gym as much but still carries what she's learned from her preseason experience and going to the gym with her friends.  
"I'm just pushing myself to be better because when using the gym machines, there's numbers associated with how much you're pushing or pulling," Fan said. "It's good to drive yourself to improve and only compare your PRs or scores to yourself. Going to the gym is an outlet from school or whatever drama is going on." 
---
Cheryl Tsai
Two years ago, sophomore Cheryl Tsai dislocated her knee and was in physical therapy for six months, where she was initially introduced to weightlifting. 
Tsai did not have any prior experience going to the gym, but she signed up for P.E. Weight Training to stay healthy. Initially, Tsai found herself as a  beginner to the equipment and routines her teacher introduced. 
"I found at the beginning, I wasn't quite used to working out as heavily or working those muscles specifically," Tsai said. "I learned it's pretty good to squeeze stressed muscles because it helps build them up so you can lift heavier things."
In the first semester, Tsai focused on getting used to the machines and workouts, while in the second semester, she created workouts that catered to her goals. Achieving these goals have become her favorite moments from the class. 
"When I first squatted my body weight, I was like, 'Wow, I'm stronger than I expected,'" Tsai said. 
Although Tsai finds that some people take weight training to build and target specific parts of their bodies, for her, weight training is about setting health goals she can achieve and accomplish. 
"The accomplishment I feel afterward is when I'm really tired [from working out]," Tsai said. "When you've been so burnt out from school and you've working out, it just clears your mind, and it makes you feel happier." 
Since taking Weight Training, Tsai found how her view of being "fit" changed and how it might look different for everyone else. 
"Being exposed to the gym has opened up a whole area of exercises that I wouldn't have considered doing before playing a traditional sport," Tsai said. "To me, 'healthy' means that you're able to do all the physical activities that you like and push yourself."
---
Arnav Jahdav 
Content warning: This article contains mentions of suicide
Growing up overweight, those around junior Arnav Jahdav bullied him for this, going so far as to tell him to commit suicide. The bullying, the dissatisfaction with how he looked, and the need for change in his image had brought Jahdav to the gym.
"I was always kind of an outcast," Jahdav said. "I've been bullied all my life because I was overweight, so then, one day, I was like 'I've had enough' and I just started lifting."
From there, he found that he enjoyed lifting weights, which motivated him to go to the gym consistently. There, he poured commitment into the hobby, curating a workout plan and ultimately improving his abilities that went on to better other aspects of his life.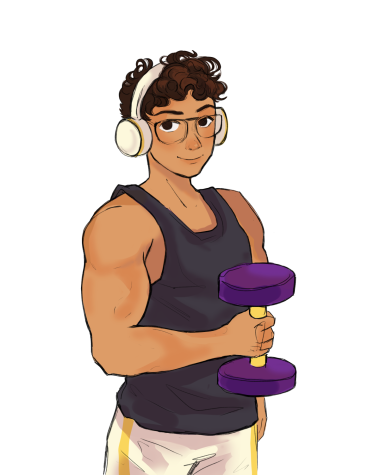 "I go to the gym [because] I'm trying to achieve the best version of myself that there can be," Jahdav said. "Going to the gym not only helps you build a better physique, it also helps you build consistency and discipline."
The gym has since become a catalyst for change in Jahdav's body image. Lifting weights regularly, he has seen the work that he put into the gym translate not just into losing weight and having a defined physique, but also a stronger mentality.
"The people who used to bully me, they don't bother me anymore [because] I'm bigger than them," Jahdav said.
As he continues to go to the gym, he reflects on the person he used to be and the growth he has achieved, which further motivates him to go to the gym.
"Every time I look in the mirror I see a glimpse of my old self and I'm just like, 'That's not good,'" Jahdav said. "I keep on going because I want to fully change myself."