MV Drama opens its curtains to its production "Still Life With Iris"
The department holds its 2023 Spring Production
MV Drama held its opening night for its spring production "Still Life With Iris" on Wednesday, April 5. After five weeks of preparation, this was the first of the production's four shows, with the last show being Saturday, April 8, at 2 p.m. The show features a kidnapped girl named Iris, played by junior Ananya Nadathur, who loses her memory. 
"It's crazy — I've never had a lead before, so this is my first lead role," Nadathur said. "What's different [about] playing a lead role rather than the supporting role [is that] there's more work you can do by yourself to characterize, because lead roles often have a lot of the backstory given to [them], so there's more to work with."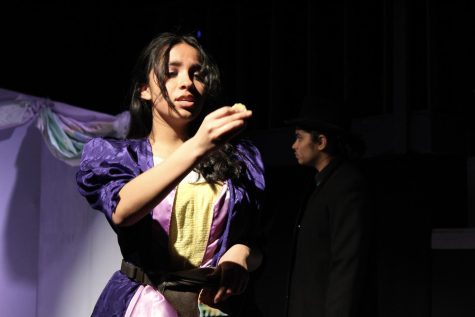 The play features a multistoried set in the Black Box. Junior and costuming lead Naomi Mhamunkar estimates that the set took around 80 hours over several tutorial and lunch periods to create.  
"I was trying to use recyclable stuff because the whole theme of the production was using things that we already had," Mhamunkar said.  "We were trying to make sure that we thrifted everything we got and never bought anything off of Amazon." 
For the actors, voice alterations and physical changes played a crucial part in embodying their roles. Senior Emilian Sega, who played Grotto Good, had to train his voice to reach higher pitches than his natural tone, which he stated was the hardest part of his role. 
"Not breaking character when I'm entering [the role was hard] because I have to transition from this super smiley, happy-like face into an evil and dramatic pose," Sega said. "I know that the audience is looking at me and I know that people are going to be laughing, so it's hard for me to [deliver with] character. It's about unlocking that mindset and really getting into the role."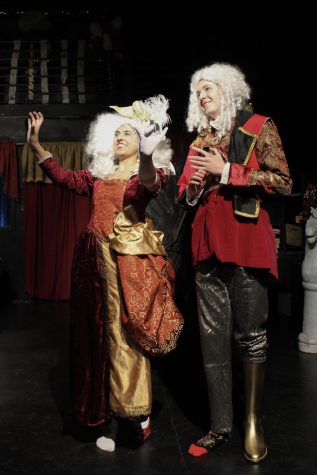 Nadathur echoes this sentiment, reflecting on how her ability to connect with the role she was playing enriched her performance. 
"During rehearsal, I try to relate to my character," Nadathur said. "Not so much that it's just an extension of myself, but I try to find little things where I can relate. My character is 12, so she has a lot of tantrums and I try to tap into [them] when I'm stressed and stuff [to portray them]. I try to attach parts of myself to my character."
As "Still Life with Iris" was amongst her last productions with MV Drama, senior Jiya Singh, who played Gretta Good, says the play was bittersweet. She reflects on how the drama program has pushed her and other students to learn more about themselves and to push themselves to achieve great things. 
"One really good thing about this department is that it pushes you to go outside your comfort zone in the best ways," Singh said. "When you're cast [as] something, you might think you're not perfect for the role, but as you progress and grow as a person, you realize that you had those capabilities all along."