Balmdotcom: senior Belen Demlew shares her passion for beauty on her personal website
Demlew posts about her personal experiences with skincare and makeup online in an effort to build community
The only light in the room is the glow emitting from the mirror in front of her. Today's makeup is just a simple look, but she wants it to be perfect. Each swipe of powder on her cheeks and careful smudge of color on her lips is made with intention. Finally, she makes the finishing touches and glances up at the time, only to realize she is late for school — she had become so caught up in perfecting her makeup that what had felt like only ten minutes had actually been almost an hour.
Senior Belen Demlew first began experimenting with makeup in eighth grade as a form of self expression, but it slowly morphed into part of her routine — now, she doesn't feel like herself if she goes without it. However, to Demlew, makeup is more than just a hobby. Rather, she says that she found her penchant for makeup as part of a larger journey of self-discovery involving both makeup and skincare, which she explains on her personal website, balmbdotcom.com.
Demlew uses her website, which doubles as both a forum for makeup advice and a journal of her skincare journey, as a place to share any and all feelings about her experiences with the beauty industry. In one article, she shares her experience with malassezia folliculitis, a type of fungal acne, and the steps she took to diagnose and cure it. According to Demlew, during the initial lockdown due to the pandemic, she struggled with her mental health. Her malassezia exacerbated this struggle, particularly because she had shaved her head recently, which increased her awareness of her skin. Demlew could not afford to see a dermatologist, so she took curing her acne into her own hands and began scouring Reddit forums for information regarding the condition.
"I started focusing on my own appearance, my own self, my routine and how makeup and skincare fit into my life when I was taking care of my mental health," Demlew said. "[My appearance] became something for me to focus on and rely on to help myself."
Demlew says that feedback from friends and family regarding her journey was the driving factor that spurred her to start her blog. When applying to college, she decided to write her personal statement essay about her journey with mental health, makeup and skincare. After showing it to multiple friends and family and her counselor, Ashley Voigt, they encouraged her to share her story publicly, saying it could help others in similar situations.

"[Belen] is very passionate about her own skin journey, as well as helping others in their own skin journey," Voigt said. "I think her desire to help others really comes out in her website, to try to use what she's learned to help others and have that information out there. And I can tell she's done a lot of her own research and she's had her own experiences. She uses both of those together to inform others."
Senior Brooklyn Giacinto, who Demlew befriended at the start of her junior year at Wilcox High School, is who Demlew points to specifically as the person who most motivated her to start sharing her insights. According to Giacinto, she would frequently go to Demlew for advice regarding beauty products, to which she would be met with long, detailed feedback regarding the best products for her.
"If you have a question on any self care topic, [Demlew] is the girl to go to," Giacinto said. "She will answer your question. [When she asked me if she should start a blog], I remember telling her that there's no need to be scared because if you don't start then it won't work. She had to stop being nervous about it — that was the problem."
More broadly, Demlew's motivation behind sharing her story is to positively impact her community. She recalls other experiences with her family and friends in which they came to her for advice regarding beauty products because of her vast background knowledge, which made her realize just how difficult it was for people not as well-versed in the topic as her to find accurate information.
"I realized that on social media, there's a lot of misinformation," Demlew said. "There's a lot of people trying to scout and find the right product at a great price, and in that, a lot of people will put harmful products on their skin. You don't know what to get. You go to a store [and there's] like 100 different things. I would love to just be that one person that people can come and ask for reliable sources of information."
Demlew's initial interest in makeup began with the influence of beauty influencers on YouTube. Specifically, she can recall watching hours upon hours of videos by NikkieTutorials, who she says made her recognize the power of makeup as a tool for self-fulfillment.
"Seeing the power of makeup as something that we evolved to create as humans gives [me] so much emotional value and heart," Demlew said. "Because [NikkieTutorials] started as a kid as well and grew into it like I did, and it did so much for her and brought so much for her and fulfilled her so much. [My inspiration] really was the power of makeup. I saw it for something more than vanity, and that really inspired me."
Demlew also says that living as a Black woman in the predominantly non-Black community of Cupertino also spurred her to start her website, because she recognized the benefit that hearing her unique perspectives and experiences could bring to others. She emphasizes the necessity of representation in the makeup and skincare industries, as she found it empowering to see women who looked like her when she was first getting into makeup.
She also recalls instances in which her skin tone presented additional difficulties that a person with a lighter skin tone would not have experienced. In addition to it being hard for her to find her foundation shade at stores like Sephora, she remembers a time when she was incorrectly prescribed antibiotics for acne by a doctor. It wasn't acne — it was a rash, caused by allergies — but the doctor had not known what that rash looked like on darker skin tones. Demlew says being put on the wrong medication opened her eyes to the pervasive effect of existing biases and motivated her to share her journey in the hope that she could build a community.
"It made me question," Demlew said. "'Is there a place for me [in makeup]? Can I do something with it?' I always felt like I had to contribute something. But I learned that if you just do it for fun, and if it offers you something that follows you in any way, there's a place for you there as well. And that's just what it did for me."
Ultimately, Demlew's goal is to use her platform to make a positive impact. In the future, she hopes to expand her outreach to continue sharing information and foster a constructive space for a community of people who want to collaborate by sharing experiences and addressing each other's concerns.
"I definitely want to pursue this for as long as I can," Demlew said. "I know a lot of brands started by being a blogger site and creating a community of people where you can talk back and forth and review ideas and just exchange information. If you have a group of people, then it makes it so much easier to grow. I would love to just see what my results are and see if it's landing and addressing people's concerns."
About the Writer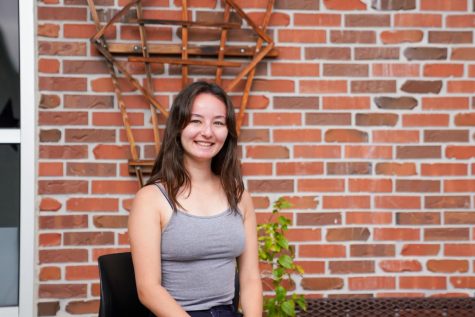 Anna Jerolimov, Co-Editor-in-Chief
Anna is currently a senior and a co-editor-in-chief for El Estoque. She also plays field hockey at MVHS. In her free time, she enjoys playing the piano, reading memoirs and taking photos of her family and friends.