MVHS choirs hold Festival Concert
Esperanza, Low Key, Bella Voce and Variations perform repertoire for upcoming concert at Gilroy Sings
The MVHS choirs hosted their Festival Concert on Friday, March 10 in the auditorium. Esperanza, Low Key, Bella Voce and Variations performed the pieces they are preparing for their upcoming festival, Gilroy Sings, as well as three solo and two duet songs.
"[Tonight] was one of our best [concerts] that I've been in so far," sophomore and Bella Voce member Anya Walia said. "Everything went really smoothly … I loved [Bella Voce's] pieces so much. I think they're my favorite that I've ever sang in this choir."
Senior and Bella Voce member Amrita Arun agrees that the concert went well and that Bella Voce's festival repertoire — "Koud Jay," a Haitian Creole song, and "Psalm 23," a choral interpretation of Psalm 23 — were well chosen. According to Arun, while these songs are harder than what they usually sing, the hard work they put into rehearsing paid off.
"[Choir teacher Amy Young] picks songs that are outside of our comfort zones but challenge us to become much better singers," Arun said. "I feel like we always start off thinking that we can't sing them because they're so difficult. … I was really hoping [tonight] would go well, and I think this was our best [performance]."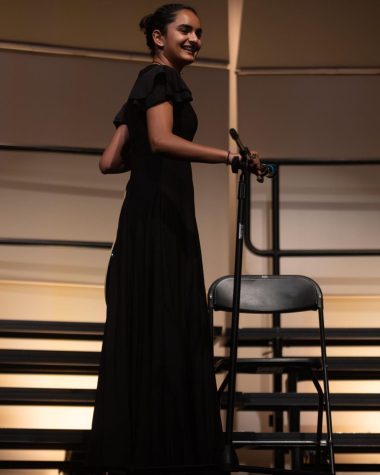 Walia's favorite part of the concert was the solo acts, as she sees them as a way for choir members to express their individual passions. Walia, who sang "Astronomy" by Conan Gray and accompanied it on a guitar, recalls her experience of performing alone onstage as incredible.
"I was so nervous," Walia said. "I don't know if [the audience] could tell, but I was shaking a lot, especially at the beginning. But I looked up in the crowd, and I saw a bunch of people crying, and I was just like, 'Oh my god, I did that.' It was just crazy."
Along with Gilroy Sings, the MVHS choirs will be performing their Pops Concert in May, as well as their Farewell Concert at the end of the school year. Arun in particular hopes that the choirs will see a bigger turnout in their two remaining concerts and encourages MVHS students who haven't already considered joining choir to give it a try.
"It's a wonderful experience," Arun said. "I'm so, so happy I joined. I don't regret it even a little bit." 
While Walia and Arun are excited for both upcoming concerts, they note that the Farewell Concert will be a bittersweet sendoff for all the seniors. Arun says that each of this year's choir concerts, which are so distinct from each other, have made her appreciate what the choirs do and the people around her. 
"Last concert, I cried, literally, before I came on stage," Arun said. "I've only been in choir for two years, but last year, I made so many friends. … It was really interesting getting to know so many people that I wouldn't normally interact with, and they're so sweet. They're really wonderful people. Being a senior has made me realize that I'm not going to see these people ever again."