Badminton defeats Cupertino High School 17-13 in a close game
Varsity Badminton opens up its season with a close victory
In the first game of the season, Varsity Badminton defeated Cupertino High School 17-13 in a close win decided by the very last game on Tuesday, March 7. Both Boys Singles and Mixed Doubles won all their games, earning a combined twelve points for MVHS. Boys Doubles also played well, winning two of their three matches, netting only five more points for MVHS. 
However, no Girls Singles or Girls Doubles won their matches, which led Cupertino almost to complete a comeback against MVHS. The deciding game was Mixed Doubles Varsity 1, played by senior and captain Lance Fuchia and junior Sruthi Venkatesan, securing the win for the team by winning in straight sets.  
Fuchia, who played Varsity 1 Mixed Doubles, says that he faced some pressure because his game was the deciding factor in the outcome of the match. 
"I thought [it was going to be an] easy match," Fuchia said. "I had confidence [in] Sruthi's abilities [and] in my own abilities."
Venkatesan says that although she didn't have experience playing Mixed Doubles before, the pair still won because of their communication and ability to cover for each other throughout their match. 
"Knowing who is going to take what shot is important because [when rotating] you need to get most of the court covered, so communication [is key]," Venkatesan said.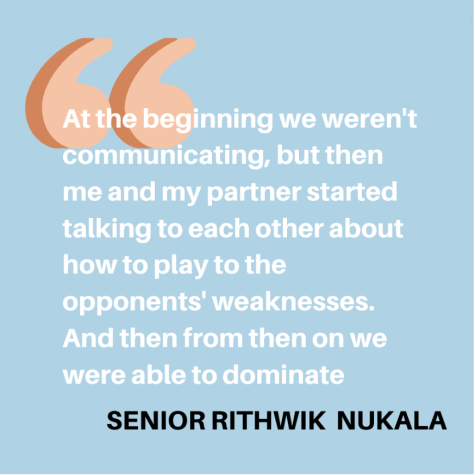 Senior Rithwik Nukala, who plays Varsity 2 Boys Doubles, adds to this sentiment, emphasizing how communication allowed his partner, freshman Amish Tyagi, and him to come back and win their match. 
"At the beginning, we weren't communicating, but then [we] started talking to each other about how to play to the opponents' weaknesses," Nukala said. "From then on, we were able to dominate."
Despite this, Nukala still feels he has room for improvement and wants to work on his defensive coordination with his partner to prepare for upcoming matches.
Sophomore and Varsity 3 Boys Singles player Jayden Lim says that he varied his shots' strength and maximized opportunities to smash the birdie when it was higher up to win his match. Like Nukala, he also elaborated on how he had plenty of flaws that he plans to improve upon for the next game. 
"[I need to] place my shots better, in the four corners and the sides," Lim said. "I didn't really hit it there that much, so next game, I should put it there more."
Fuchia also mentions how as a captain, he hopes to bring the team closer together through team bonding activities to "close the team's boundaries [and build] trust [with] each other." He looks forward to and is excited for the rest of the season.
"I think we definitely have a lot of potential," Fuchia said. "I'm pretty confident [in] our team going forward. We do have some weaknesses I would like to work on, but overall, it's [a] positive sentiment."