Varsity Boys Basketball wins in second round CCS Playoff game against Gunn High School 66-56
Varsity Boys Basketball advances to face St. Francis High School in the third round of the CCS Playoffs
Varsity Boys Basketball won 66-56 against Henry M. Gunn High School in the second round of 2023 CIF Central Coast Section Boys Basketball Division 2 Championships playoffs on Saturday, Feb. 18. MVHS will now advance to the third round of CCS playoffs, where it will face off against Saint Francis High School on Tuesday, Feb. 21 at 7 p.m. Head Coach Wade Nakamura explains that it is the first time in fourteen years since MVHS has won the second round of CCS playoffs, highlighting his excitement for the team's success as they "just made history" with this game. 
"I'm excited, happy, proud, all those things," Nakamura said. "Everyone's playing hard. Everyone's playing together. We were confident coming into the game. All the pressure was on them since they're the higher seeded team and they have a home game. So, it was a great win."
Although GHS is a "much bigger team" according to Nakamura, MVHS overcame the disadvantage in height with its strong offense and defense. In addition to the numerous three-pointers and perimeter defense, the team displayed an amazing battle on the boards, obtaining many rebounds despite the difference in height. 
Senior and center Dominic Kellogg III adds that it was especially difficult to go against a tall team due to the huge difference in height between him and the opposing center. However, Kellogg explains that MVHS's strong mentality and motivation to win helped him and the team persevere through the game and succeed. 
"I hate when we play against tall teams because I'm a [short] center," Kellogg said. "I'm playing against somebody [who is] seven foot but I'm six foot. [But you know,] heart over height."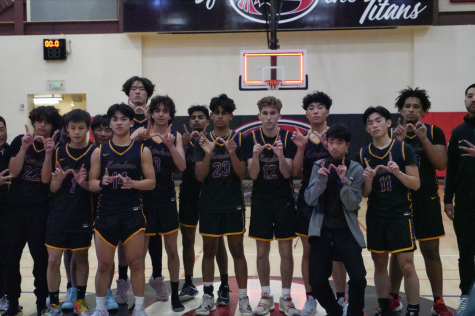 While the team succeeded in winning against a higher seeded team, Nakamura expresses his concerns for the third round of CCS playoffs. MVHS's upcoming opponent, SFHS, is the number one basketball team in the second division of CCS Boys Basketball and a private school where players attend for the purpose of playing basketball, thus making it a challenging match for MVHS. Therefore, before the game, Nakamura hopes that the team will improve its free throws, explaining its importance in games. 
"We got to shoot better," Nakamura said. "It would have been a lot easier [to win against GHS] if we made free throws. So down the stretch, you got to make the free throws."
However, no matter who MVHS's opponent is, Kellogg explains that MVHS will always keep its head up and enter a game with the confidence to win. MVHS has one goal and will continue to work towards it throughout the years.
"We don't come in with the expectation of losing," Kellogg said. "The goal remains the same: state championships. We came here looking for a win, we got the win and the job's not finished."