Balancing school and club sports
Understanding the time management aspect of playing high school and club sports
Freshman Miya Sakurai remembers struggling to choose between attending club basketball practice or joining the high school water polo team before the start of the 2022-23 school year. In the end, she chose to do both — competing with the San Jose Spartans as well as the JV water polo team. Similarly, senior Rojel Acot utilized club practices to enhance his performance on MVHS's swim team, competing in meets on Fridays while also training at his club, De Anza Cupertino Aquatics (DACA), every other day of the week. 
"I chose to [condition with my club team during the high school season] because it's what a lot of the club swimmers end up doing just because it's a little bit easier and it's kind of more of a workout to condition with your club team than with the high school team where [there are] people who may not have been swimming for as long as you," Acot said. "But, it does get a little bit exhausting, especially because you're racing on Fridays and then swimming on Saturday and then you only have Sunday really off but it doesn't feel like an off day all that much."
While Sakurai was able to balance both school water polo and club basketball during the fall season, she and Acot both recognize that keeping up with club and school sports at the same time can be exhausting. Sakurai committed to the school basketball team during the winter season, prioritizing basketball over competing for her water polo club, West Valley Water Polo (WVWP). Similarly, Acot quit DACA in January of 2022 to be able to spend more time training with the school team. 
However, unlike DACA, which continues swim practices through the high school swim season, junior Elijah Kang's volleyball club, Mountain View Volleyball Club (MVVC), stops during the high school volleyball season to allow for full participation in school practices. This break also serves as an opportunity for Kang to fully immerse himself in the high school season, especially because he finds it to be more competitive and high-stakes than the club season. 
"For club, I feel like practices are [looser] and less serious — I guess less pressure," Kang said. "But with school, since we want to win a lot, there's a lot of pressure to maintain that record or reputation of being such a good school and we have to be on top."
Acot, however, feels differently, finding that for swimming, there is a lack of pressure during high school seasons. 
"I think I'd say that high school sports are an opportunity to have fun and enjoy the sport that you're doing in a little bit of a less competitive environment," Acot said. "It's a way to make friends and have fun and I think that's probably the most valuable thing you'll get from high school swimming. You don't need to be the best and you don't necessarily need to win all the time. It's a lot about the memories and people you meet."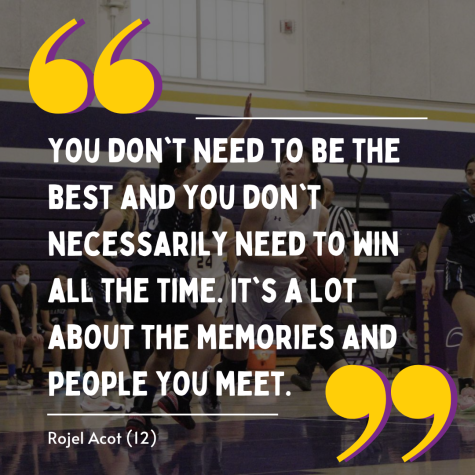 However, one drawback Acot notices regarding competing during high school season versus club is the amount of limitations on competing at the club level. Central Coast Section (CCS), the division MVHS is a part of under California Interscholastic Federation (CIF), rules that students cannot compete for a club team during high school competition season.  
"I think there are a lot of really fast meets during the high school season, so not having those opportunities isn't really fair because I don't think it's necessarily taking much away from the high school season," Acot said. "Swimming does hold a lot of importance for people and being able to view your accomplishments at a higher caliber meet versus a high school meet is definitely a different experience and having that experience isn't something that I'd want to take away from anyone."
Despite the drawbacks, Acot still appreciates the high school season and finds that the swim meets and practices provide an opportunity to cultivate friendships and have fun. Sakurai feels similarly and has determined that despite the difficulties that come with time management, she wouldn't change her schedule which incorporates all her favorite sports. 
"I go to practice and then I go to the next practice and then I do my homework after practice. And then I just [do] that every day," Sakurai said. "You just push through when it gets hard because you know that these are the sports that you love."