Girls Basketball moves up to third place in the league after securing a win against Saratoga High School 63-44
MVHS regains its momentum following a three-streak loss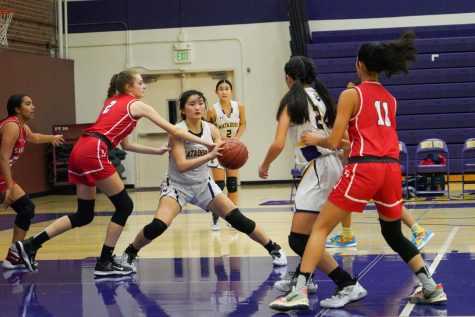 Varsity Girls Basketball won 63-44 against Saratoga High School on Thursday, Jan. 26, starting its winning streak once again and moving up their league standing to third place. MVHS started off strong with a five point lead but faltered towards the beginning of the second quarter, ending the first quarter with only a one point difference of 14-13 with MVHS in the lead. SHS managed to take the lead at the start of the second quarter, bringing the score up to 14-15, but MVHS regained its momentum and quickly gained a significant lead with a score of 46-33 by the end of the third quarter. MVHS maintained the lead for the rest of the game, finishing the game with a 19 point lead. 
Junior and center Sophia Lu attributes MVHS's ability to widen the score gap in the fourth quarter to the team's energy, which allowed the team to overpower SHS and maintain the lead throughout the rest of the game.
"It was a combination of just our energy trumping Saratoga's energy," Lu said. "I felt that they gave up in the third quarter [or so] when we were up by 15 [points]. I think that dwindled their energy and let us get up on top and secure the win."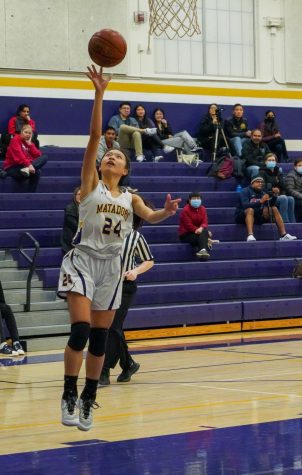 According to Lu, the win against SHS was extremely important for the team, as the previous three losses impacted the team greatly. 
"It's really important that we got this one today because we just came off of a couple of losses, which were kind of hurtful," Lu said. 
Earlier in the season, senior and guard Emi Kosakura explains that the team has been adjusting to the absence of senior Varshini Pedditini due to an injury, a major factor in the previous losses, as Pedditini is one of the key players of the team. However, despite that, the team secured the win against SHS, moving themselves up in the league standings from sixth to third place. Kosakura believes that their win was largely due to the hard work that the team put in during training and is elated to see that the team's hard work had paid off in the game. 
"With all the support and everything that we have, I know that moving forward as a team, we are just continuing to work hard every day and get better," Kosakura said. "I think just putting in the work and seeing it all payoff tonight was really rewarding."