Shining a light on Junior Varsity
Exploring underrepresentation amongst Junior Varsity teams
Sophomore and basketball player Katrina Lin jogs to the sidelines after a successful first half of a game. Expressing positive feedback and excitement about the rest of the game, Lin's mood is optimistic, especially after her team "slayed" in terms of teamwork. However, after seeing the emptier stands, which she attributes to the fact that it was a Junior Varsity game, she experiences a downturn in emotion. Lin understands the potential drawbacks, such as increased pressure, for some players of having a large amount of spectators, but she says that she personally would still enjoy the extra motivation. 
"I was just disappointed," Lin said. "It does depend on the scenario because for some people I know they get more nervous if they see their friends or family in the crowd, but for me I feel encouraged to do better." 
Similarly, junior and soccer player Samuel Yao, who played on the JV team for the past two years and currently plays on the Varsity team, says JV is often overlooked compared to varsity, with less spectators and coverage. He wishes that JV was better represented, saying increased recognition would incite more motivation from the players.
"I think it'll bring up the overall morale, maybe boost our confidence to play better, and make the game more hype or more energetic," Yao said.
Lin says being on JV suggests lower pressure to perform, and says the focus is on having fun. However, she still wishes that larger crowds showed up to support her team, as she believes the team "would be more excited to play and perform well."
Similarly, JV Boys Basketball coach Clifton Wu points out potential benefits in increased viewership, specifically uplifting the players' spirits and energizing the team. 
"We definitely could use more spectators," Wu said. "We would definitely welcome more students making noises for us. Like when we went to Saratoga last year, it was really wild, really crazy. [Saratoga] had chants and bands. It'd be great if we had more spirit like that."
To cultivate increased viewership, Wu finds that social media would be a positive way to interact with more people. Yao and Lin echo this sentiment, saying more publicity on the various JV teams' personal Instagrams, the MVHS athletics Instagram and the school's publication, El Estoque, could allow that growth to occur. 
With a group of six freshmen and seven sophomores, Wu believes the JV Boys Basketball team is a "pretty strong group of boys" and is excited to see what the team will bring to the court. He hopes that spectators will also come and cheer on the team, as he believes this increase in spectatorship could also help the team improve in its gameplay.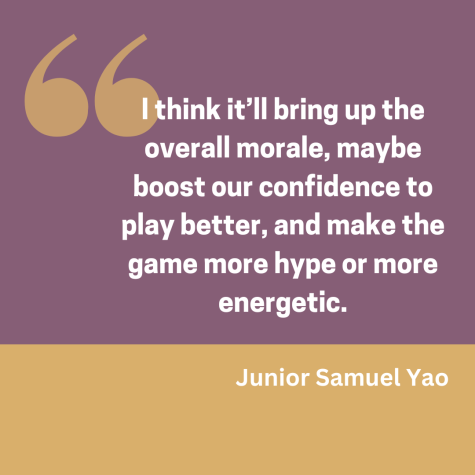 "It's still really early in the season," Wu said. "It's gonna be a long season. We're gonna play until the middle of February and I just really look forward to [see our team improve]. And, we've [already] gotten better in two months, so I'm really looking forward to working with [them]. [Hopefully, with a bigger crowd], it would energize them more and uplift their spirit, [helping] them play better."