Physical distance
Exploring the relationships between family members located in different countries
December 9, 2022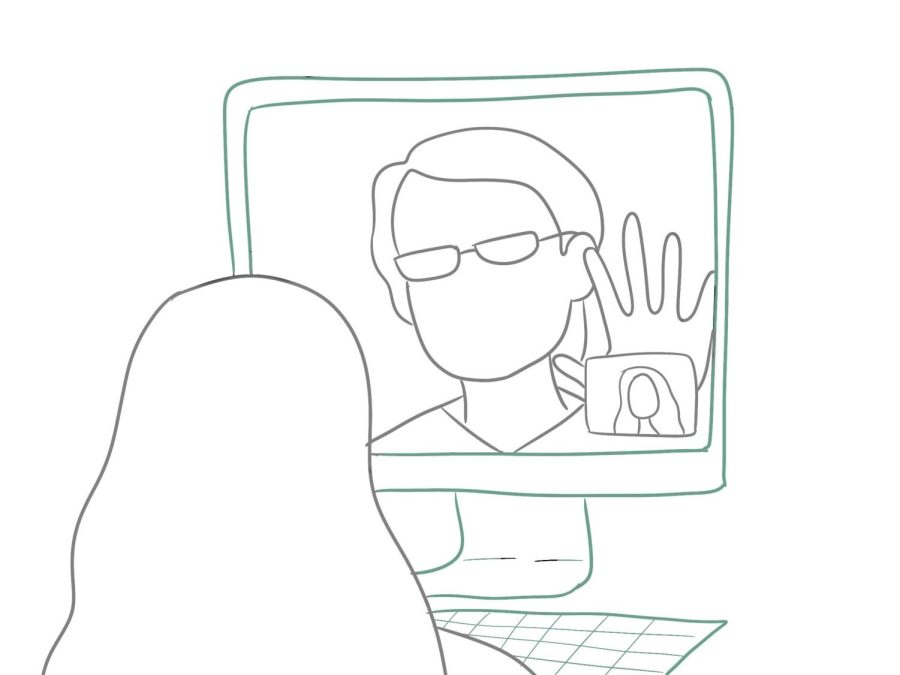 Kavita Gupta
Muffled audio and scratchy depictions of her pixelated mother is what teacher and science curriculum lead Kavita Gupta regularly encounters when communicating with her mother in India. When Gupta attempts to call her mother through WhatsApp, they are often unable to hear and see one another, which makes it difficult for them to keep in touch.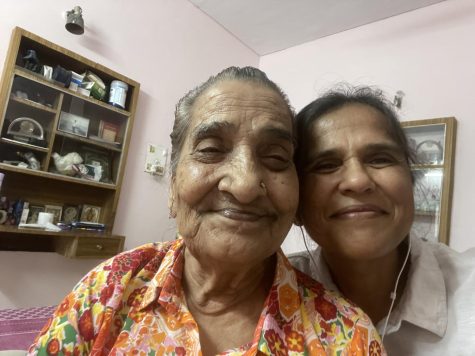 "The pain of distance is always present as a first generation immigrant when you have your happy milestones [that your parents] can't be a part of," Gupta said. "I wake up very early to talk to [my mom] because that's the only time her help is there who can [set up] the phone, but it's such a limited interaction. And sometimes [my mom's] hand goes on the screen and then the screen freezes. And then she says, 'Oh, I can't see you,' and I feel so frustrated."
In response to these difficulties, Gupta traveled to visit her mother in February and July of 2022. Her main goal in these trips was to visit her aging mother and show her that she is still valued. 
"I want to hug her, not leave her even for a minute and just be there [for her]," Gupta said. "[I want to] make her hair, get a tailor to make her nice fitted clothes, make her feel loved [and] make her feel like there is somebody who still cares for her."
Recently, Gupta began to ask her mother a variety of different questions, with the hope of better understanding her life. Through this, Gupta learned that her mother was raised by a progressive father in a conservative time period, which shaped her into the person she is today.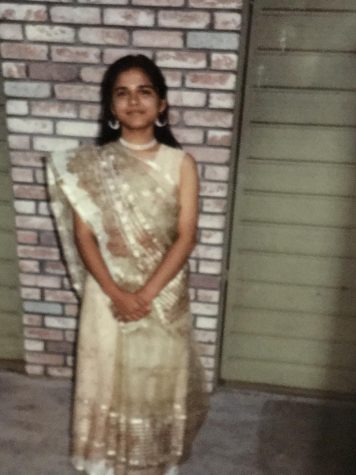 "Everything that I know, [my mother] has taught me," Gupta said. "She has taught me a love for learning, how to not give up and the strength of women. Even though my mom was raised in a pretty patriarchal, misogynistic society, she still took courage to express herself. Mostly she's taught me to love life, enjoy life and be kind to humanity."
Due to the airline shutdowns and the strict lockdown policy during the pandemic, Gupta was unable to travel back to India when her father passed away in 2020. It wasn't until February of 2022 that Gupta was able to fly back to support her mother and pay her final respects to her dad. 
"[I went back to] the house that my dad built when I was in high school," Gupta said. "Some of [the things I picked for the house] are still there, but he wasn't there. I knew I needed to be strong for my very frail mom because she has low resiliency and depression, so I didn't want her feeling too low. It definitely was very heartbreaking to see how life had changed, yet I was so thankful that my mom was there [and] there was still a [place to come] home to."
Austin Wong
The first scent that comes to senior Austin Wong's mind when he thinks about his home country of Hong Kong is the simple yet fragrant aroma of soy-sauce steamed freshwater fish. Although Wong is grateful that he was able to move from Hong Kong to America in 2022, Wong misses the nostalgic dish. Having searched for it in America, Wong couldn't find anything remotely close, mainly because none of the American dishes were cooked by the special people whose dishes he'd grown accustomed to — his grandparents back in Hong Kong.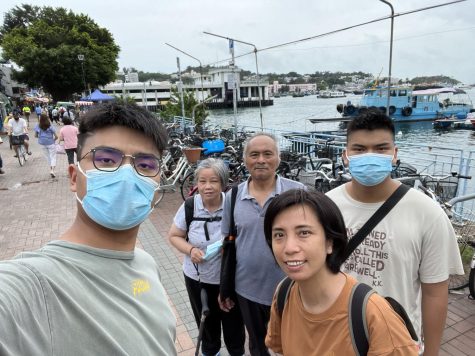 "[My grandparents] lived with me when I was in Hong Kong for more than five years because we needed to take care of them," Wong said. "[But my grandparents] did all the household stuff for us because my parents needed to work. [For example], they usually did the laundry [and] cooked delicious things."
Wong tries to keep in touch with his grandparents via Facetime and WhatsApp, but finds it hard for his grandparents to keep up with the evolving technology. As a result, he has to remain patient when guiding them on how to use video calling.
"[When we talk on the phone] I share about my story in America because it's fresh for them," Wong said. "But I [don't] talk about the problems that I'm facing now [because] I don't want to make them worried [about] me and my family. [I normally talk about] the days when I was in Hong Kong and how they took care of me when I was a baby [because] they think it's funny."
One childhood memory he shares with his grandparents is going to the amusement park and playing a variety of carnival games. 
"They [used to] give me $100 and I stayed there for the whole day," Wong said. "[At the end of the day], I would use the rest of the money to buy ice cream. I love red bean ice cream but I [can't find that] in America right now, so I miss that."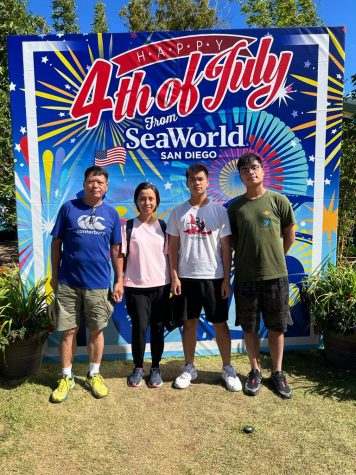 Wong also longs to experience the vibrant Chinese traditional festivals such as the Mid Autumn Festival and Chinese New Year. Although Wong has spent less than six months in America, he already misses the joyful celebrations in which his family used to gather together to enjoy a good meal.
"We used to celebrate all of the Chinese traditional festivals together because Chinese [culture] emphasizes the importance of unity as a family," Wong said. "I [told] some of my friends [in Hong Kong] that I came to America so then they [took] care of my grandparents. [For example], we have a Chinese traditional festival in Hong Kong called Mid Autumn festival, where we usually eat mooncakes, so my friend [gave] some mooncakes to my grandparents. And then when it was [my grandpa's] birthday, they brought salmon to my grandfather [because] he loves salmon very much."
Having grown up in the same household as his grandparents, Wong's appreciation for them has heightened with their increased physical distance, as it has made him realize their endless patience when raising him and his brother. Although Wong misses his grandparents, geographical barriers and his grandparents' old age make it difficult for them to get together in person.
"I'm quite happy to be in America, but no matter how happy I am, I still feel like I've lost something," Wong said. "[I feel like we've] lost our relationship [because] we are [getting farther] than before. So yeah, it's a bit sad."
Aruna Venkateswaran
The charcoal smell of grilled chicken roasting in the small, well-preserved town of Kanazawa transports sophomore Aruna Venkateswaran back to her maternal grandparents' home in Japan, which she visited in 2019. Although the chicken, or yakitori, is a staple delicacy she enjoys every time she visits, her favorite part of the experience is the end of each meal, when the restaurant she frequents provides her with delicious soft serve for free. Venkateswaran fondly recalls holding her frozen treat in one hand while using her other hand to spin a multi-colored wheel to win a prize. 
"[In America] everything is fast paced," Venkateswaran said. "You're either going to classes all the time, or you're going to school. But in Japan, it's just peaceful and you just get to do things that you like. [When I go], I feel kind of lost, but then I also feel really excited."
Although Venkateswaran's maternal grandparents live over 5,000 miles from her, she is able to keep in touch with them via the communication app Line. A highlight of her day is receiving over 20 notifications per day from a group chat with her mom, grandparents and uncle. While they do talk about familial updates, Venkateswaran claims that more often than not, her grandparents use the chat to communicate among themselves about mundane things such as purchasing groceries, because they're still unclear on how to use the app properly. 
Although Venkateswaran is enrolled in Japanese classes at MVHS, she sometimes faces difficulties understanding the messages because all of the texts are sent in the Japanese written language called Kanji. 
 "I like to think of [our group chat] as good Japanese practice because I'm not completely fluent," Venkateswaran said. "My grandparents know all the kanji, so when they type in really hard kanji [that] I don't know, I go to Google Translate and instead of using the Translate feature — which is not that helpful — I actually see how you say it, and then if I know what it sounds like, I know the meaning. That's how I learn what word attaches to what kind of character."
Venkateswaran also has grandparents on her paternal side in India who she talks to through WhatsApp multiple times per week. 
"My grandmother [from India] and I share a strong connection, just because we talk to each other really often, especially through the phone," Venkateswaran said. "We don't text, [but sometimes] she sends me motivational photos like 'today is going to be amazing' and I just say 'thanks!'"
Venkateswaran views her paternal grandmother as a strong role model in her life and says she has taught her many important life lessons. One of the main ways in which Venkateswaran preserves the strong relationship with her grandmother is by participating in a classical Indian dance called Bharatanatyam. Since the age of seven, Venkateswaran has been dancing in an attempt to connect with her cultural roots.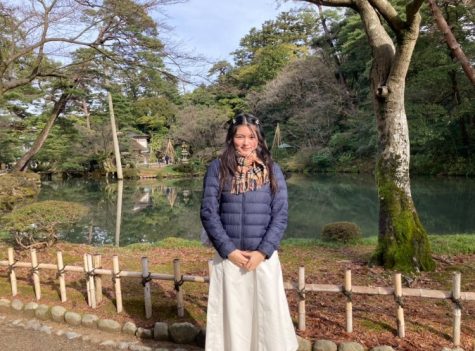 "My grandmother was a dancer so she gives me her books and I send her my music," Venkateswaran said. "She's never seen me perform, but one time when we were doing our calls, I danced for her and it made her really happy. [My grandparents] won't be able to come [to America], but at least when I do my solo dance for Bharatanatyam, I'll be able to livestream it and she'll be able to watch it and enjoy it."
Despite the distance, Venkateswaran hopes to visit her family in both India and Japan sometime by the end of 2022. 
"[My favorite memory in Japan was when] we went to go see fireworks at a nearby resort," Venkateswaran said. "My dad can't speak Japanese, but he tries his best. He knows a little bit [of Japanese] but it's sort of funny to see my dad and my grandparents [interact] because they just smile and nod at each other and try to communicate the best they can. Watching them makes me laugh and it also makes me happy to see my family get along."