'SMITHEREENS' paints an incomplete canvas
Joji fails to bring artistic growth in his third studio record
"SMITHEREENS" is the third studio release from Japanese-American R&B personality Joji, released on Nov. 4. His final release under the 88rising label, the record features a nine song tracklist with a total runtime of 24 minutes.
Where he was initially known for releasing offensive and comedic rap, Joji's true calling came with  a R&B-inspired sound in his EP "In Tongues" and his debut album "BALLADS1." Following this, he would take his largest artistic leap in "NECTAR," which showcased impressive vocal clarity with a pop-centric sound, albeit dragging a bloated tracklist.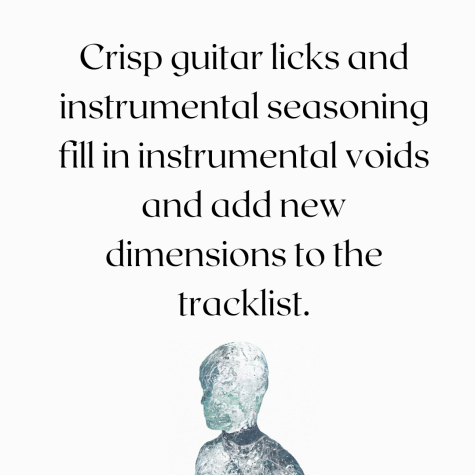 However, "SMITHEREENS" is a significant downgrade in the message Joji wants to send. Where there's still slight inklings of the vocal and instrumental grandeur from his past projects, this record is much more akin to the unfinished patchworks of his beginnings, with heavy sounds hiding his raw vocals. Joji again finds himself covered under the blankets of his comatose instrumentals, refusing to show his vulnerabilities in a record that feels more like a contractual obligation than a fully realized release. 
Regardless, Joji expands his vocal repertoire more than ever on "SMITHEREENS," especially on the piano ballad "Glimpse of Us," pairing his characteristically raw timbre with an impressive vocal range over subdued pianos and pads. He also dips his toes back into the experimental sphere with "Dissolve," where he pairs autotuned verses with a grandiose "Who are we?" chorus that elevates the emotional weight of the somber guitars underneath. 
In addition to the consistent growth in his vocal range, the instrumental quality on this record also shows significant leaps forward. Clear mixing allows his voice to be the mainstay on the synth-laden "Die For You" and the piano anthem "Before The Day Is Over." Crisp guitar licks and instrumental seasoning, such as warm synth trails on "Die For You," fill in instrumental voids and add new dimensions to the track's sound.
Despite all of these improvements, the record fails to fill its nine song tracklist with impactful content. Most of the record's tracks are two minutes or less and often end with a weak instrumental fade out. Tracks such as "Feeling Like The End" and "1AM FREESTYLE" even fail to reach this mark, unable to provide a comprehensive experience with their sharp 808s and one-note instrumental color. This leaves much of the album runtime to be unfinished, often leaving loose musical threads that lead unsatisfying conclusions.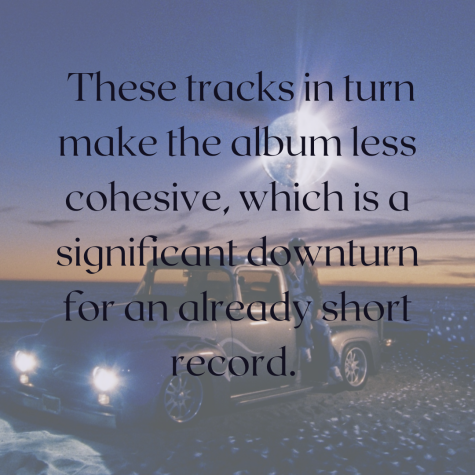 This undeveloped nature also reveals sharp drops in quality from each song to the next. Three minute cuts like "Glimpse Of Us" and "Die For You" are emotionally and instrumentally dense, establishing atmosphere and importance in their runtime. In contrast, "BLAHBLAHBLAH DEMO" and "1AM FREESTYLE" listen more as musical wallpaper: they're nice in the background, but are unimpressive enough to stay in the foreground. "BLAHBLAHBLAH DEMO" is subdued with crackling guitars that while setting a somber vibe, struggle to carry the comatose energy Joji provides with his vocals. While "1AM FREESTYLE" showcases more dynamic voicings from Joji, the instrumental flavoring does no service to complement that style. These tracks in turn make the album less cohesive, which is a significant downturn for an already short record. 
Joji had not released any new music since "NECTAR," and to come out after two years with such an unfinished and artistically bankrupt piece places new questions about the future of his career as an artist. Even across the tracklist, there are well developed songs clashing with filler material that struggle to justify their placement on an already sparse record. With such a seemingly unpolished tracklist, "SMITHEREENS" paints an incomplete world that disappointingly weakens Joji's discography.
1.5/5