Santa Clara via Via
Exploring the motivations and future goals for the expansion
Cupertino and Santa Clara were awarded a state public transportation grant of nearly $8.5 million on July 7 to expand Via-Cupertino, a public rideshare app, into Santa Clara and nearby destinations. The expanded service is expected to launch in April of 2023 and eventually to other nearby cities, according to Cupertino Senior Transit and Transportation Manager Chris Corrao.
Corrao says Via is "carpooling with an app that the city subsidizes." Because the city funds Via, they can offer low rates similar to those of public transit. Via launched its pilot program three years ago, and its service quickly gained momentum, with cities such as Sunnyvale, San Jose, Los Altos, Campbell, Mountain View and Los Gatos expressing interest in joining the service.
However, Via soon ran into an unexpected issue — the COVID-19 pandemic. After a temporary suspension due to health concerns, Via chose to resume service in October of 2021 to provide access to essential destinations such as supermarkets and health centers, despite plummeting ridership and increased costs. According to the Via Pilot Invoice Summary, the city subsidized an average of $182.59 per trip during October after the relaunch, compared to only $16.04 immediately prior to the county COVID-19 stay at home order.
Despite that, Via has become more cost-efficient since its initial launch. In August, the average cost per trip was $39.02, much less than $79.68 in the first month of service, October of 2019. August saw the highest ridership since October 2021, one of the key performance indicators. Ultimately, Corrao believes that "all of these indicators are pointing to a big increase in ridership over the next year [with] the cost continuing to come down."
The expansion will increase Via's fleet from nine to 12 shuttles and create routes to additional essential destinations, such as the El Camino Hospital, requested by many senior citizens, and the Mountain View, Lawrence and Santa Clara Caltrain stations, for commuters. Corrao explains that historically underserved communities benefit the most from Via due to its affordability and easy access.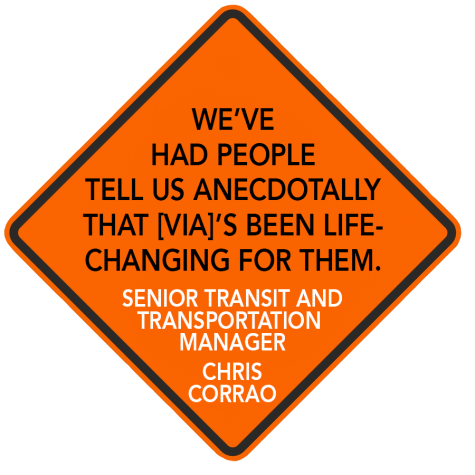 "We've had people tell us anecdotally that it's been life changing for them," Corrao said. "Instead of waiting 20 minutes for a bus and a transfer, they're able to quickly get to the rail station. And I think for seniors in Santa Clara that will now be getting the app for the first time, we will hear the same thing that we've been hearing from Cupertino seniors, which is that Via has given them a new sense of independence. I think we can anticipate to hear that from more communities as we continue to grow."
As a student without a driver's license, sophomore Siyona Kathuria has also found using Via allows a greater sense of independence. Before using Via, she was "completely dependent" on her parents, but having the ride-share service has made making plans with others "a lot easier."
Kathuria says that she hasn't tried public transport in Cupertino because her experiences using public transport in other cities have been "messy and not very enjoyable." However, she recommends Via "100%."
Sophomore Gehna Saini, who uses Via-Cupertino everyday to travel to and from school, also recommends the service. With no ride for a route that would take 45 minutes to walk, she felt she had no choice but to turn to a rental ride service. Although her family originally considered using Uber, they had their hesitations as they felt the environment was unfriendly and the fare was too expensive for daily use.
Saini's parents heard about Via from a friend and "really liked" the service, due to the privacy created by the shield between the driver and passengers. Another bonus was Via's short wait time — typically mere minutes. However, Saini wishes that there were more drivers in the morning, when, according to Saini, the shuttle can take almost half an hour to arrive.
Another concern Saini has is the lack of communication on the app. She's experienced a few instances of a driver getting changed after she booked a ride, but wasn't informed how long the new driver would take to arrive.
However, Saini believes Via has taken efforts to address the issue. Before, users could not directly contact drivers, and Saini was forced to contact customer support whenever she encountered an issue. A recent update from early September now allows users to call their drivers. In general, she believes the service is improving.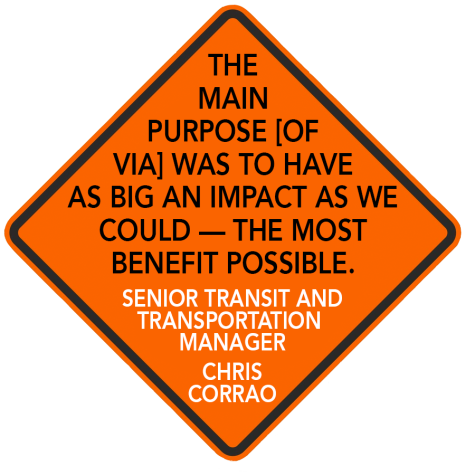 In the future, Corrao hopes Via will become a "true alternative to just driving." Currently, he sees Via as a complementary service to the VTA bus system and other local public transit routes, intended to allow "people to transit in an easier, less stressful way," as he doesn't see Cupertino as a walkable city.
Corrao is hopeful that Via can eventually expand to include rail stations in Sunnyvale and San Jose and create a public transit system in the West Valley, which traditionally has not had one. Additionally, Via is transitioning into an electric vehicle only service, with the ultimate goal of zero emissions. As their coverage increases, so does the potential amount of greenhouse gases that can be prevented, compared to if someone had a solo trip in a gas-powered car. According to a survey Via-Cupertino took of its users, almost 70% of Via riders said that if it weren't for Via, they would have driven alone.
"The main purpose [of Via] was to have as big an impact as we could — the most benefit possible," Corrao said. "You really see exponential growth in the way it benefits the environment because by more people taking rail transit, the trips that they take tend to be much longer and they have a much higher environmental value, if you think about the greenhouse gases that come from transportation. There's a lot more [environmental] bang for your buck on those longer trips … that's how I envisioned this growing and becoming a permanent program."