Heat wave blankets Cupertino
Investigating the effects of high temperatures on students and staff at MVHS
A heat wave occupied Cupertino and other parts of California from Sept. 5 to 9, with temperatures reaching 110 degrees Fahrenheit on Tuesday, Sept. 6. Residents in the Bay Area suffered power outages due to the heat and overuse of electricity, and MVHS staff left the auditorium, gym and classrooms open during brunch and lunch to keep students and staff cool.
According to Principal Ben Clausnitzer, opening up spaces with air conditioning was one of the first changes the administration implemented at the start of the heat wave, especially since he knew that temperatures would be highest during school breaks such as brunch or lunch.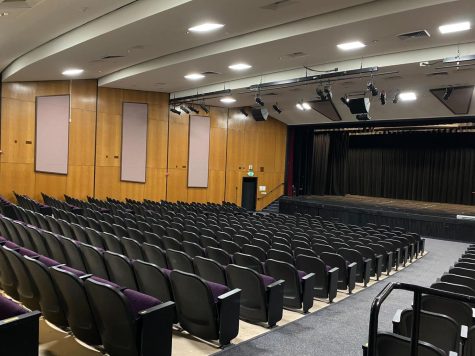 Clausnitzer was also concerned about Physical Education students and student athletes who had practices and games. While games that were held outdoors or in spaces without air conditioning were immediately canceled or moved indoors, Clausnitzer admits there was a bit of uncertainty surrounding how to handle water polo games. 
"[What] about students and parents watching the game on the deck? What about the referees on the deck?" Clausnitzer said. "When you're trying to make those decisions [about pools] at a district level, it's about the students in the water, but then there's also everything else that's going on in terms of other people who aren't in the water."
Students also experienced power outages at home to put less stress on the power grid. Senior Myrna Chang's power went out around 3 p.m. on Sept. 5 and the outage lasted until almost 10 p.m. Her family decided to go to a relative's house to use their power and Internet, and Chang finished the rest of her homework there. Chang wasn't surprised by the power outage, given that it had happened earlier in the summer.
"Having to actually go somewhere and think about when the power [would] come back, that kind of stressed us out," Chang said. 
This experience sparked Chang to think about the way California's power grid works and how it could be improved for similar events in the future. 
"California relies a lot on renewable energy," Chang said. "It poses the problem of supply and demand because renewable energy has a lot of variability, like the sun only comes out during the [day] and at night there's nothing. We need better infrastructure." 
Chang's thoughts are echoed by facilities manager Eddy Medal, who expresses the struggles he and facilities staff member Tony Sousa faced in the process of keeping MVHS cool. 
"We did have a little bit of issues [with] our Main Distribution Frame room, which is our main distribution for our internet on campus," Medal said. "It started getting a little warm and then we had to put some fans to keep up with the added heat. [There] wasn't so much of an issue on that one, but we did struggle with some of the rooms keeping AC."
Clausnitzer appreciates the "behind the scenes" work that Medal and Sousa put into making sure students and staff could keep cool, expressing that it was integral to keep MVHS running smoothly. While school was in session, Medal and Sousa managed the school's operation systems and patrolled the roof's air conditioning units.  
"I see [the work they do] because I'm involved in it, but I'm not sure that everybody sees the amazing work that they were doing [during the heat wave]," Clausnitzer said. "We get a call, and they're [immediately] up on the roof, checking it out in the 100 degree weather. I'm constantly telling them, 'Yes, I want you to do those things, but I need you to also be safe in the sun and the heat.'" 
Medal feels that MVHS was lucky in comparison to other sites in the district that had more facilities stop working during the day. Despite the difficulties that he and Sousa encountered, he shares that the two of them did all that they could, calling in outside contractors for extra help when necessary to make sure that all the facilities students and staff used were equipped with internal cooling systems. 
"The heat wave itself — [those were] a lot of days of extreme heat, and I think overall our site did really well with it," Medal said. "The teachers did a great job of dealing with that [considering that it was] an extremely hot time [and it was] not normal. It was tremendous."