Taking precautions
Students examine the risks they take in playing sports while participating in other activities
While catching a ball during basketball practice in P.E., freshman Saanvi Goyal was struck by a sharp pain in one of her fingers. A visit to the doctor revealed that the impact of the ball pulled one of Goyal's tendons to the side, chipping a bone.
"Especially in basketball, when you injure your finger, the first thing you [hope] is that it's [not] broken," Goyal said. "[You hope] it's just stubbed and it'll go away soon. So initially, I was like, 'OK, it'll blow over eventually.' But it wasn't until we actually went to the doctor when [the finger] was purple [and] I realized that it's probably not going to be possible to do [some] things."
Not only did this injury result in Goyal's inability to play basketball for 4 to 5 months, but it also prevented her from fully participating in other activities such as playing music. As a percussionist, a role that "is very hand-based," Goyal couldn't audition for Wind Ensemble, MVHS' top level band, due to her hand injury. However, Goyal maintains a positive attitude, adding that injuries "happen sometimes and that it's not a big deal." 
Although sophomore and wrestler Noah Vin hasn't sustained an injury similar to Goyal's, he voices his fears of the possibilities. Vin recalls a time in which a wrestling tournament and an orchestra concert in which he was to be featured as a soloist fell at the same time, which sparked worry in him about the possibility of sustaining an injury during the tournament that could affect his cello performance. 
Although Vin recognizes that some parents lean towards encouraging their child to pick one activity over others, he says that his parents are supportive of both his involvement in wrestling and his other activities, as they are aware of his deep interests in all of them. In wrestling, Vin's parents have played a role in helping him make sure that he doesn't get injured, reminding him to constantly remember to wear headgear and a mouthguard while wrestling.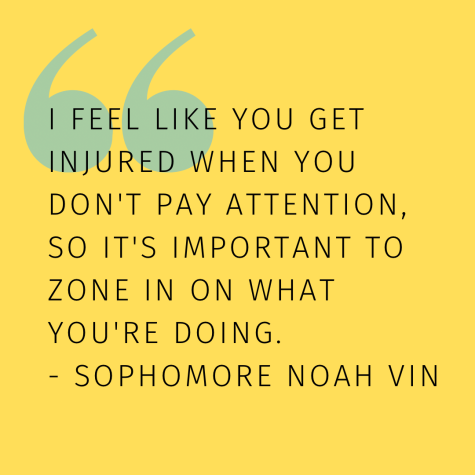 Goyal also echoes the importance of being careful, especially now that she has faced the repercussions of what happens when one isn't cautious while playing a sport. Similarly, junior Aditya Mishra considers his safety when playing a sport, and references it as the reason he quit  playing the piano prior due to his interest in football. 
"I started playing football and I realized that maybe I'd have to give something up [if I] get injured," Mishra said. "Honestly, it just comes up to what you want more in your life and what you are willing to risk to keep that stuff in your life."

Vin understands the fear of being injured and the potential danger of being unable to achieve a task in another activity due to his sport. However, Vin emphasizes the important role of staying focused in reducing the chance of injury while playing sports.
"I feel like you get injured when you don't pay attention, so it's important to zone in on what you're doing," Vin said. "It's the same for everything: stay really concentrated because you don't get injured when you are really concentrated, you get injured when you're zoning out."