Fight like hell
Exploring Boys Volleyball's journey to the Division II NorCal Playoffs
After a crushing 3-0 loss in its first game of the season against Saint Francis High School on March 1, the Varsity Boys Volleyball team stood in the SFHS gym as Head Coach Paul Chiu told the team something that senior Lance Tong said proved to be useful throughout the season: "Trust your training and fight like hell." That night, MVHS was clearly outmatched as they faced prospective Division 1 collegiate athletes, but Tong believes that the team had given up too easily. In order to succeed, Tong knew that the team had to push through the adversities they faced and Chiu's words "set the stage and expectations for the rest of the season." 
Going into the season, the team was prepared to accomplish less than their predecessors — in previous years, the team had always been the first in the league and the 2018 and 2019 teams were NorCal champions. With only five upperclassmen who had played a full season on the varsity team before, the team lacked consistency with its plays and veterans who would help lead the team to victory. Senior Arthur Chan describes having to deal with being "a young [and] immature team" as a constant battle.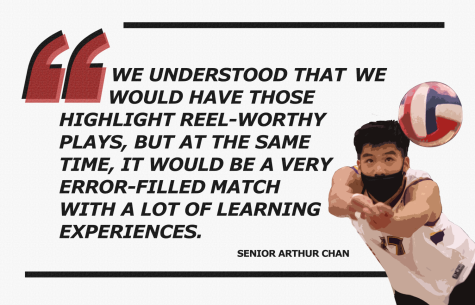 "We're trying to figure ourselves out as a team and also as young players who don't have much experience at the highest level," Chan said. "So we understood that we would have those highlight reel-worthy plays, but at the same time, it would be a very error-filled match with a lot of learning experiences." 
Yet Head Coach Paul Chiu didn't let go of the expectations he has for his team every year — "win league, compete for CCS and make it to NorCal." Dominating tough sets against Homestead High School in its first league game, Chiu saw potential in his team and while most of the league expected to defeat MVHS this year, he figured out that the team needed to surprise "one opponent at a time." However, the team still experienced the inconsistency in plays they had anticipated, which was especially prominent when players were injured, and emerged as the fourth in the CCS SCVAL De Anza El Camino League with a record of 8-6. 
A little over two months after their first game, the team was back in the SFHS gym, but this time, it was for the Division I CCS Championship against HHS on May 14 after its 3-0 sweeps against Aragon High School and Carlmont High School during playoffs. 
Because MVHS was a CCS finalist, they had already secured a spot in the NorCal playoffs. As the result of the game would determine whether the team would compete in Division II or Division III of NorCal, sophomore Varchas Athreya remembers feeling unsure about the outcome.
"We weren't sure what the atmosphere was going to be like, [but] at the same time, after a long season of high pressure games like this, we were used to [it] so I was excited to see what was going to happen," Athreya said. 
In the close game against HHS, the team was able to secure the first two sets 25-23 and 25-20. However, senior and captain Sudhit Rao says that HHS "flipped that around" by stopping MVHS's hits and won the third and fourth sets 26-24 and 25-20. It was up to the fifth and final set to break the 2-2 tie. Despite feeling "crushed" at that moment since the team had lost momentum, Rao believes that its resilience shined through.
"This is that dream moment that everybody wants, what everybody thinks of a championship match," Rao said. "Think of overtime in a basketball game in game seven on the finals. [That] is essentially the fifth set in the playoffs. It's the best feeling in the world, especially when you're the one that wins and everybody's cheering for you."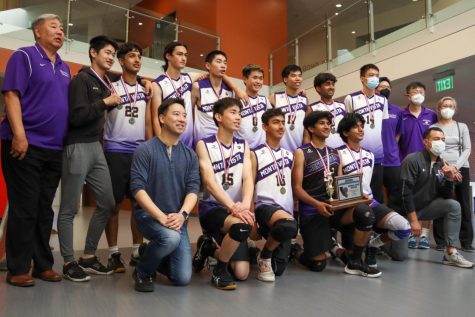 After sophomore Elijah Kang made a final kill against HHS, the fifth set ended 16-14. MVHS won 3-2, taking home the championship trophy and advancing to Division II of NorCal. 
Starting off Round I of the 2022 CIF NorCal Boys Volleyball championship in a home match against De La Salle High School, the team easily took a win with straight sets and moved onto Regional Semifinals against the No. 1 seed, Jesuit High School. As the pressure to perform well loomed, Kang recalls being extremely nervous going into the game, and the team was placed in a tough position after two sets. 
"We were down 2-0 [and] our captains told us we have nothing to lose, it's potentially our final set, just go completely all out [and] make sure this last set is going to be a good set," Kang said. "We played our hearts out and won two sets and pushed it all the way to the fifth set."
In that all-or-nothing moment, Athreya realized that "it was actually possible [to win] and the pressure was on." According to Tong, other teams may have believed that MVHS wasn't supposed to be there due to preconceptions that they wouldn't be able to hold up well this season — however, he believes that JHS "wasn't quite prepared for the fight [MVHS was] going to put up." He mentions that although JHS's complacency caused them to lose two sets, MVHS lost the last set with a score of 15-12, and the game ended overall with JHS winning 3-2. At first, Tong felt frustrated due to the loss, but then "it wore off quickly" and only the "sadness that the season [was] over" remained.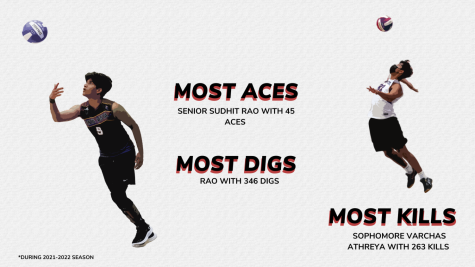 While the 2021-2022 season has come to end, the team's future is far from bleak according to Tong. Though the team was unable to reach the levels of the 2018 and 2019 MVHS teams, he sees potential for it to make it into the Open Division for CCS next season. 
"I hope that the seniors next year will be good leaders and will help navigate and weather the storm," Tong said. "With Coach Chiu at the helm, [the team] could still be competing at a very high level. He was the one who helped us improve and deserves a lot of credit for where this team is, and where this team will go in the future, which I believe is up."
About the Writer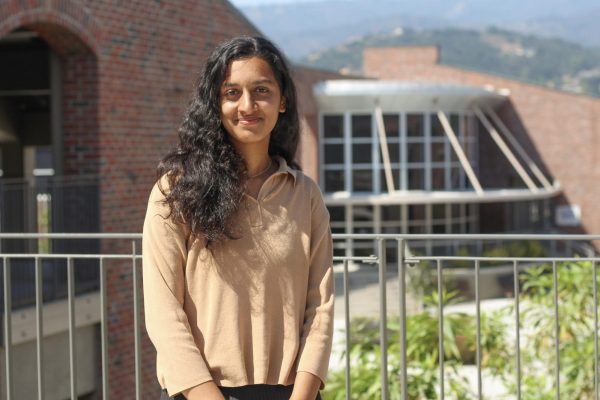 Kalyani Puthenpurayil, Co-Editor-in-Chief
Kalyani is currently a senior and a co-editor-in-chief for El Estoque. She previously served as a sports editor and is a midfielder on the field hockey team at MVHS. In her free time, she likes to read, listen to music and spend time with her little brothers and friends.