Oakland teachers strike to protest school closures
Examining the reasons behind the strike and its connection to MVHS
In February, the Oakland Unified School District voted to close seven out of 80 schools and combine several others in order to save money amid declining enrollment. In response, the Oakland Education Association organized several strikes to employ collective bargaining and negotiate the closures.
Teacher strikes have been a part of the American education system since the mid 20th Century. MVHS Social Studies department lead and lead negotiator for Fremont Education Association Bonnie Belshe explains that one of the motivations for teacher strikes in recent years is to bargain for better working conditions and pay.
"Over the last four or five years, there have been a lot of teacher strikes across the nation. Striking is looking at the idea of collective bargaining, which is what a union is for, [since] the group has more power than the individual," Belshe said. "When teachers are striking, it's not just for the individual, but it's really looking at what the larger community [and students] can get from this."
Westlake Middle School choir teacher Maurice San-Chez has been active in the fight against school closures in Oakland. When they began teaching at OUSD in 2019, they witnessed Roots International Academy being closed and the impact it had on the students at the school.
"[OUSD is] not taking any responsibility for the damage that is going to be inflicted when the schools close," San-Chez said. "I have a whole bunch of teacher friends and students from other schools that went to Roots that are still dealing with the trauma of their school closing in the middle of the school year. [Some of them] didn't get to go up to eighth grade, they did sixth and seventh and then [for] eighth, they [had] to go somewhere else when they were expecting to still be there. Not to mention the stress that it puts on families — if you have siblings and they all go to one school, now you have to go make another stop."
After the district released a draft of proposed schools to close in February, San-Chez, whose school was on the list, went on a hunger strike. As a result, the district removed several schools from the list, including WMS.
The OEA has continued to take action through meetings and rallies to spread awareness, as well as build partnerships with the International Longshore Workers Union, which is a labor union based in the west coast. Recently, OEA members voted on and planned a one-day teacher strike, which took place on Friday, April 29. During that strike, hundreds of teachers, parents and students picketed outside of multiple Oakland high schools. While San-chez supports the strike, they also recognize the need for more action.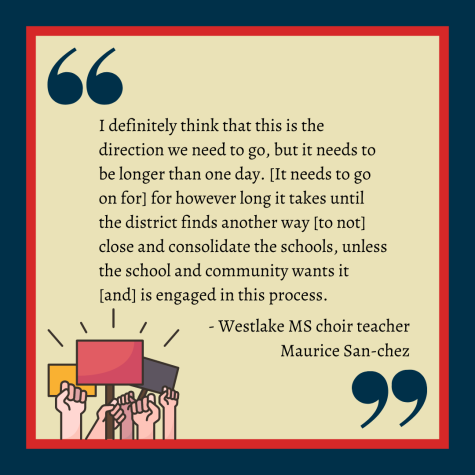 "I definitely think that this is the direction we need to go, but it needs to be longer than one day," San-Chez said. "[It needs to go on for] for however long it takes until the district finds another way [to not] close and consolidate the schools, unless the school and community wants it [and] is engaged in this process. Not just, 'Oh, we're closing your school at the end of this year.'"
Leading up to the one-day teacher strike on Friday, OUSD superintendent Kyla Johnson-Trammell released a statement that encouraged students to stay at home during that day due to the predicted teacher absences and also condemned the strike as illegal.
"OEA is claiming that it can strike on the basis of the unfair labor charge it brought against OUSD regarding school consolidations — this is not a legal basis for a strike," Johnson-Trammell said in the statement. "We respect the rights to collectively bargain, protest and disagree with District decisions, but it must be done within the bounds of the law. We have and will continue to strongly urge OEA to reconsider its illegal activity."
In 2021, the Cupertino Union School Board also voted to close three schools. This was later pushed back by the City Council due to the negative response from parents. However, both Belshe and Social Studies teacher Benjamin Recktenwald don't believe that these closures and similar shifts in the past have the potential to escalate to a teacher strike.
"A few years back, I think Cupertino high and Lynbrook high had to shift their boundaries a little bit and a lot of parents got very upset," Recktenwald said. "But that was more of an argument between the parents and the school board and not really the teachers versus the school board, so it wasn't really a union issue."
In fact, no teacher strikes have occurred at MVHS during Belshe's 18 years of teaching. She explains that the teachers union and designated negotiators from the district have monthly negotiating meetings with representatives from both the district and FEA members from each school.
"We've negotiated that we have duty free lunch and brunch, so teachers get that break in the day," Belshe said. "We've [also] negotiated [the] prep periods that we have. These are all pieces that over the years have been negotiated and things that still continue to be [negotiated]."
With its negotiations, the FEA was able to enact changes that benefitted both teachers and students. Similarly, San-Chez believes in the power of small action against larger issues.
"Even if you sing really [quietly], you're still important because if we have millions of quiet voices, it's going to be like a huge wall of sound … It does create movement and [it] creates a stir," San-Chez said. "I would say never underestimate the power of your voice. The capability of  … standing against an idea that is not just is important. It helps move us forward and away from a path of destruction and [lack of] empathy."